6 YA website tips for Young-Adult Authors (with examples)
Last updated 13 June 2023
Written by Jin Wang
Young Adult (YA) Fiction is a genre beloved by teens and adults alike. Here's how YA websites can capture their attention and imagination.
YA is a fascinating genre. It's marketed toward young adults, and yet more adults than teens read YA (accounting for 55% of today's YA readers). It's defined by coming-of-age themes, yet it's not afraid to bleed into fantasy, romance, sci-fi, and socio-realistic fiction. So how should websites for YA authors be designed to accommodate this exciting genre and engage their diverse readership?
Table of contents
Want this article as a PDF to read later?
1. Use visuals over text
YA readers are very active on social networks. This doesn't just include the 55% of adult readers, but also the other half of millennial teens who've grown up knowing nothing but Twitter, Snapchat, Instagram, and Facebook when it comes to the web. What these social media platforms have in common is a heavy emphasis on visual content, keeping text to bite-size lengths. It's all about large images and videos vying for the attention of users in a constantly flowing stream of information. The context of web browsing for YA readers is shaped by this environment, so your website should be too. This will ensure your website is engaging and attention-grabbing.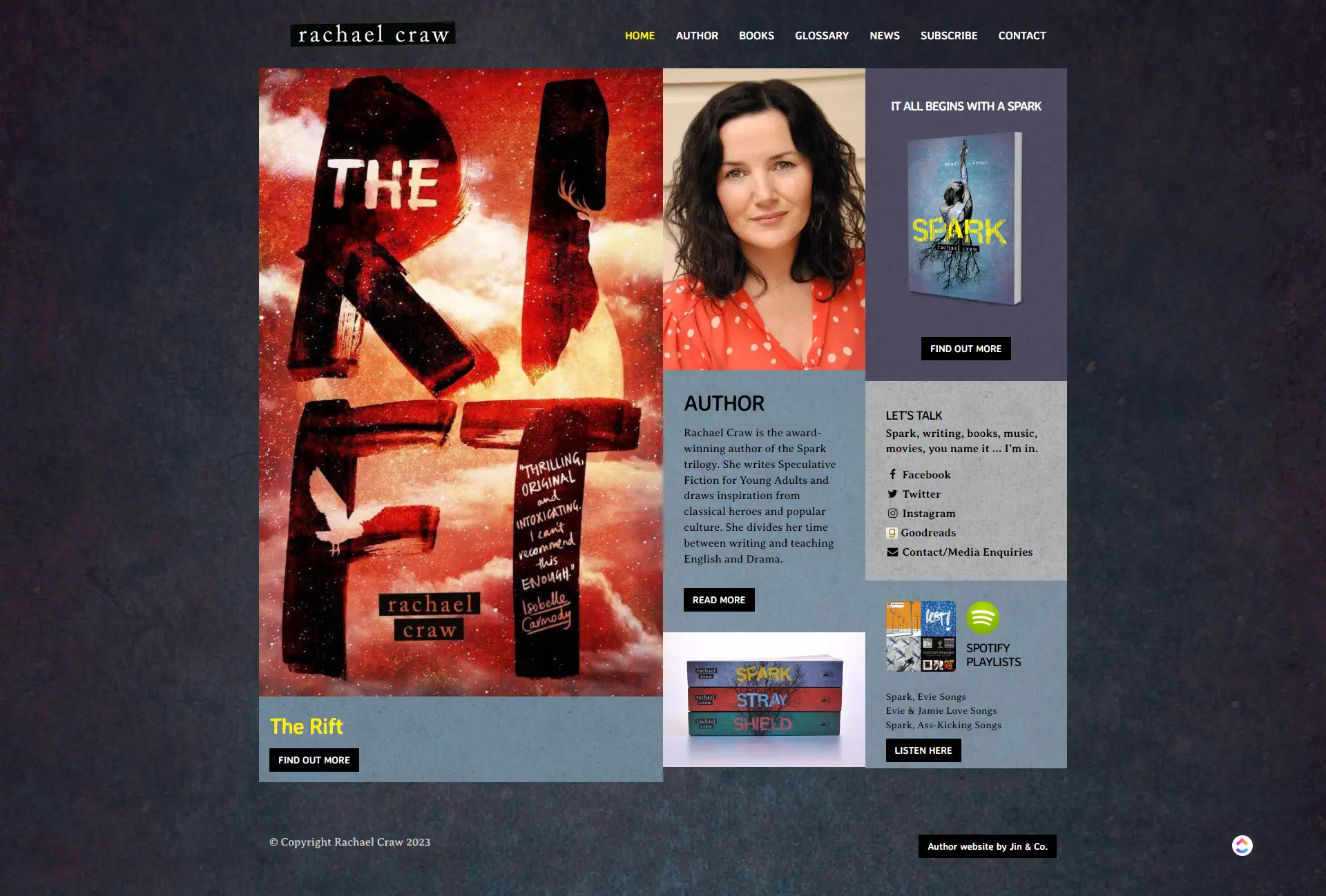 2. Speak the visual language of social media
It's also worth paying attention to the visual language social media platforms create. For example, many visitors use social media on their smartphones, which has created an ingrained logic of scrolling and swiping. As users scroll vertically through a webpage, like a Facebook feed, they're exploring – trying to find new content to engage their attention. But as users begin to swipe across horizontally, like through a Facebook photo album, they're looking to connect – wanting to find out more, or similar content. Incorporating visual language like this into your website – especially on mobile – will make navigation more intuitive.
To the left is a design called 'Ruby' I created which borrows from the 'grid' language of Instagram, to create a visual-based website that's also intuitive to navigate.
Want this design? Feel free to get in touch and make it your own.
Use an FAQ on your about page
The logic of question and response is also prevalent on social media. Think of the comment and reply functions on Facebook, YouTube, and Twitter, or the popularity of the Q and A "AMA: Ask me Anything" threads on Reddit. You might like to think about using the question-and-answer format of an FAQ alongside or in place of your about/bio page.
Some great FAQ pages include those of Rainbow Rowell, Karen Tayleur, Fiona Wood, and John Green.
3. Seamless integration with social media
As has already been mentioned, YA readers are very active on social media. Therefore, your social media should work on your website, and your website should work on your social media. As is the standard, your website should include links to all of your social media accounts, and therefore act as a hub for your entire online presence. Another way to make your social media work on your website is to include live, updating social feeds:
Something that website owners tend to think about less is how your website works on social media. One way to do this is to create 'share buttons' on each of your pages to make sharing easy.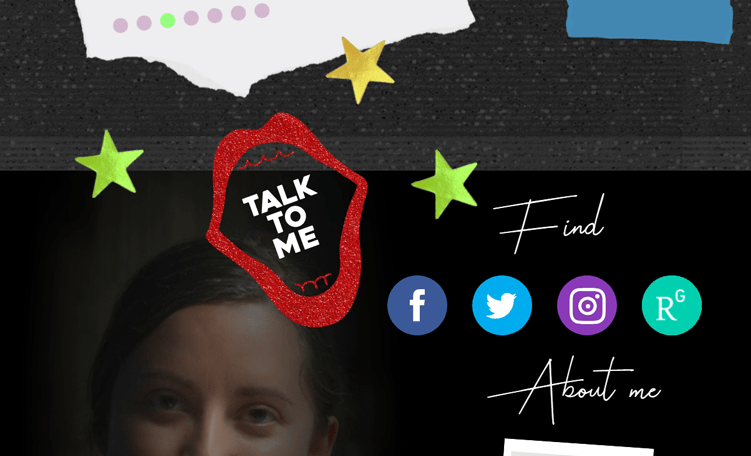 But have you thought about how your website looks when it is shared to social media? This is an important consideration, as research shows that YA readers often get recommendations from friends.
Through editing 'meta-tags', you can customise and optimise how content from your website looks when shared on social media.
Without optimisation, content from your website may look bland and easily missable, like this:
With optimisation, content from your website will look much more engaging and attention grabbing when it is shared and recommended by others, like this:
If you want to learn how to edit 'meta-tags' (don't worry, it's easy!), check out my article explaining it in more depth.
Want this article as a PDF to read later?
4. Offer unique content that you can't in a book
As a medium for communication, a website offers a wider range of ways to engage with your audiences than a book. An obvious example is an ongoing blog. Here are some more for inspiration:
Link to purchase your e-book
Your website offers a great resource for accessing the digital versions of your books. It's important to do this on your website, as more than 40% of YA consumers read e-books.
Glossary of Terminology
This can of course be included in the index of a book, but you can't ctrl-f a book! Check out Rachael Craw's one.
Related things you can offer include short stories, sneak peaks, content from your book that didn't 'make the cut', or book recommendations.
Video
Book trailers are a great addition to your website, and adds a moving part to your website to keep it visually attention-grabbing. If you're thinking about making one yourself, check out the article I wrote on the subject.
Music
A soundtrack is a great way to give emotional context to your YA book, and reveal the personality behind the pen. A simple way to add this element to your website is through embedding a Spotify playlist.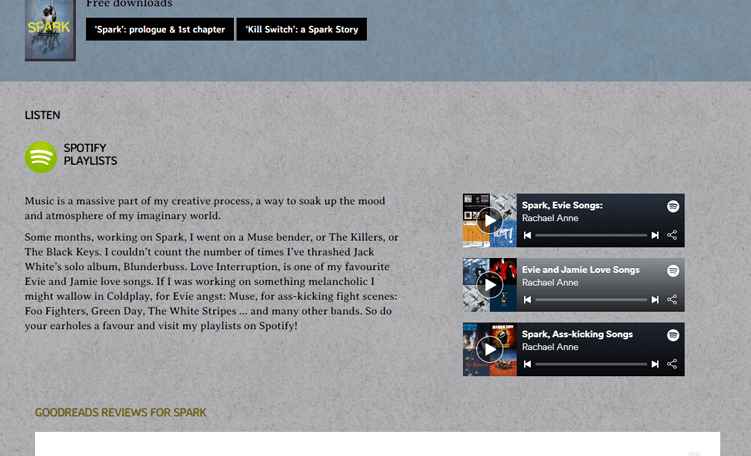 Or, you can go a step further, like Emily Gale, who produced an original song for her book 'The Other side of Summer' performed by Tim Reid and Emma Heeney. Tim offers a guitar tutorial to learn some of the basic chords and strumming techniques. The lyrics and guitar chords are also in the back of the book.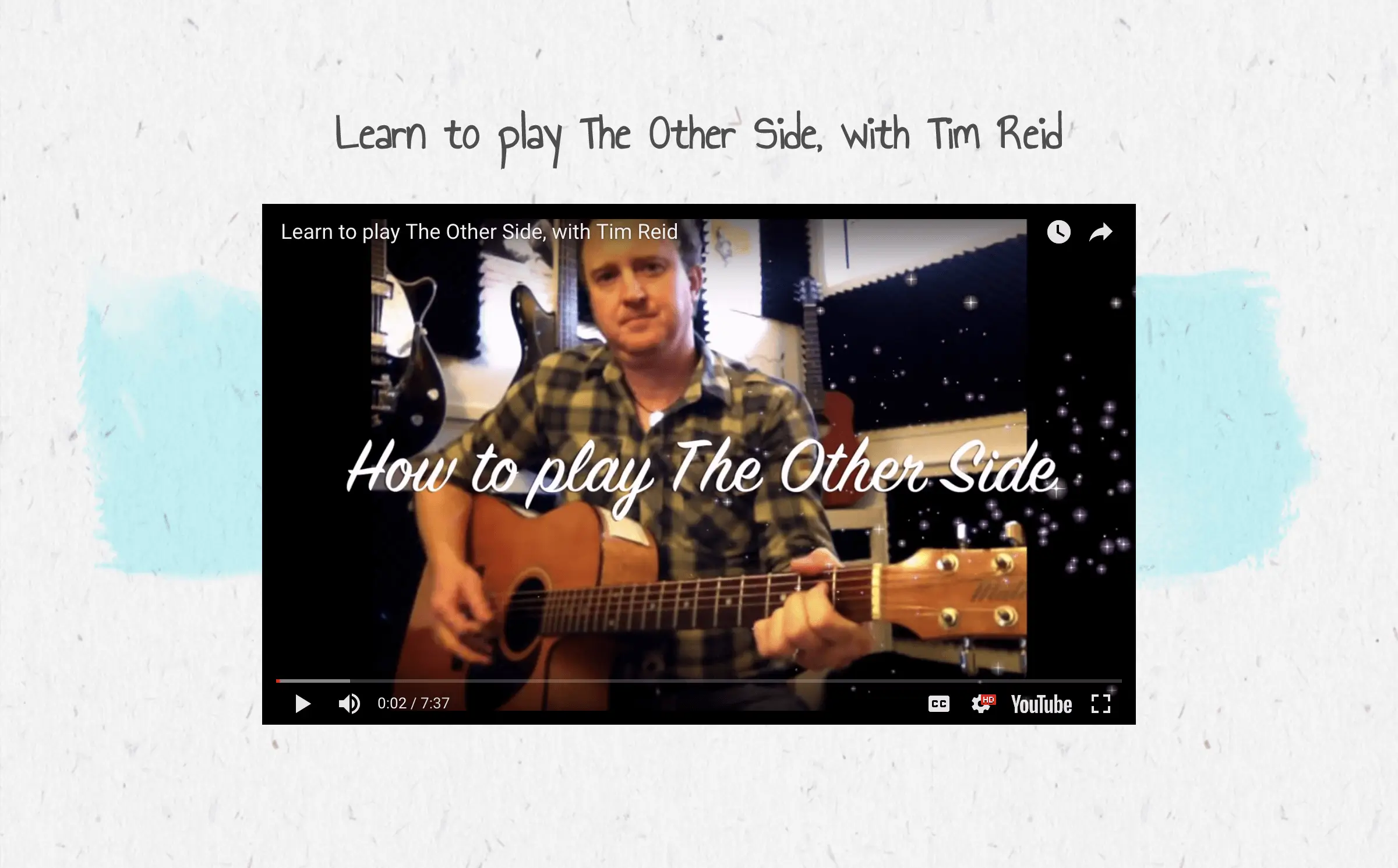 Start an email newsletter
Your website is the best way to collect your readers' emails, and, in my opinion, email is the best way to stay in touch with your socially active fans. You might like to think about running a giveaway in order to build your mailing list and create more loyal fans.
5. Display speaking events and appearances
Teachers in schools are always looking to book speakers, and your most loyal fans, both teen and adult, look forward to your events like book signings whenever you're in town. A calendar of your appearances and events on your website helps these kinds of visitors stay on track with what you're doing.
School-speaking events are often tied to a theme or part of the curriculum. Librarians also book authors across year levels. Show teachers and librarians how your book and workshop, align with what schools are doing, and what year levels it would be suited to.
6. Cater to other YA authors
Another part of your website visitors is bound to be other YA authors. For them, your website might be an invaluable resource to help their writing, and their websites for yours. You may offer writing tips or insights into your writing process or sources of inspiration on your blog. Or, you can use your blog to host or take part in a YA book launch blog tour.
Summary
Relying on visuals more than text creates more engaging and attention-grabbing content on the social media-saturated web.
Think about borrowing the visual language of social media, like how your website scrolls or swipes. An FAQ page is a good format for engagement.
Your website should integrate with social media, and social media should integrate with your website. This provides an organic way for your website to constantly evolve and makes sharing from your website beautiful.
Link to your e-books.
Find ways to offer content on your website you can't do in a book, including blog, video, and audio content.
Cater to teachers, librarians, and loyal fans by displaying your speaking events and appearances.
Don't forget that website can be a valuable resource for other YA authors, and foster the YA community.
Want this article as a PDF to read later?