Crafting a poetry author website: 5 tips to capture the essence of your voice
Last updated 03 April 2023
Written by Jin Wang
Looking to create an online home for your poetry? Use these five simple tips to make sure your website aligns perfectly with your unique literary voice.
Poetry is a unique art form that requires a special approach when it comes to showcasing it online. As a poetry author, your website needs to be more than just a platform for your work.
It needs to be an extension of your creativity, a space for readers to connect with you on a deeper level, and a hub for all your promotional activities.
In this article, we will explore the unique requirements of poetry author websites and discuss how we created websites for five prominent poets: Abdiel Leroy, Madeleine Onraet, Sophie Chenoweth, Maggie Somerville, and Omar Sakr.
Our goal is to provide insights and examples that can help you create a successful poetry website that meets your unique requirements while effectively showcasing your work to a wider audience.
Understanding the unique requirements of poetry author websites
Poetry author websites have unique requirements that include content, design, SEO, branding, and social media.
The content of the website should showcase the author's work in multiple formats, including poems, videos, and publications.
The design should reflect the author's themes and style, with clean lines, and open space. Minimalism, for example, is a popular approach.
SEO is important to increase visibility and attract readers to the site.
Branding is key to promoting the author's work and building their reputation.
Social media can be used to connect with readers and promote the website and the author's work.
From words to the web: How to showcase your content as a poet online
To present an author's work, poetry websites should include a selection of poems and information about the author's writing process and inspiration.
Often published across multiple forms and channels, poetry is a medium that is featured in a variety of different contexts, from literary journals to online publications. As a result, it can be challenging for readers to keep up with all of the places where a poet's work has been published.
To help their audiences stay informed, one way we tackle this is to create a page dedicated to their publications.
Omar Sakr
Omar Sakr is an award-winning poet, and he's got work published all over the place – from literary journals to online publications and even translations in other languages.
But the trouble is, it can be a lot to keep track of. That's where we come in. We teamed up with Omar to create a special page on his website just for his publications. We wanted to make it easier for his readers to get a comprehensive look at his work, no matter where it was published. With this new page, readers can engage with Omar's poetry in all sorts of different ways – and they'll never miss an update.
If you're thinking about setting up a website, why not create a special page just for your publications? Not only will this keep your readers in the loop on where your work is being showcased, but it'll also allow them to dive into your poetry through different avenues.
This will give them a bigger picture of your body of work and can help you form a closer bond with your audience.
Why minimalist design is a popular choice for poet's websites
The design of poetry author websites should reflect the poet's unique style and brand.
Madeleine Onraet is a poet who focuses on the spiritual nature of existence, family life, and the natural world.
Her poetry is the result of her meditation and self-inquiry, where everyday living is a practice of presence. Madeleine's work has been honed by life's challenges and wonders, particularly those of marriage, motherhood, and her work as a hospital chaplain. She has a deep interest in Christian mysticism, Sufism, Buddhism, and the Diamond Approach, which is a modern spiritual path that combines ancient wisdom traditions and Western depth psychology.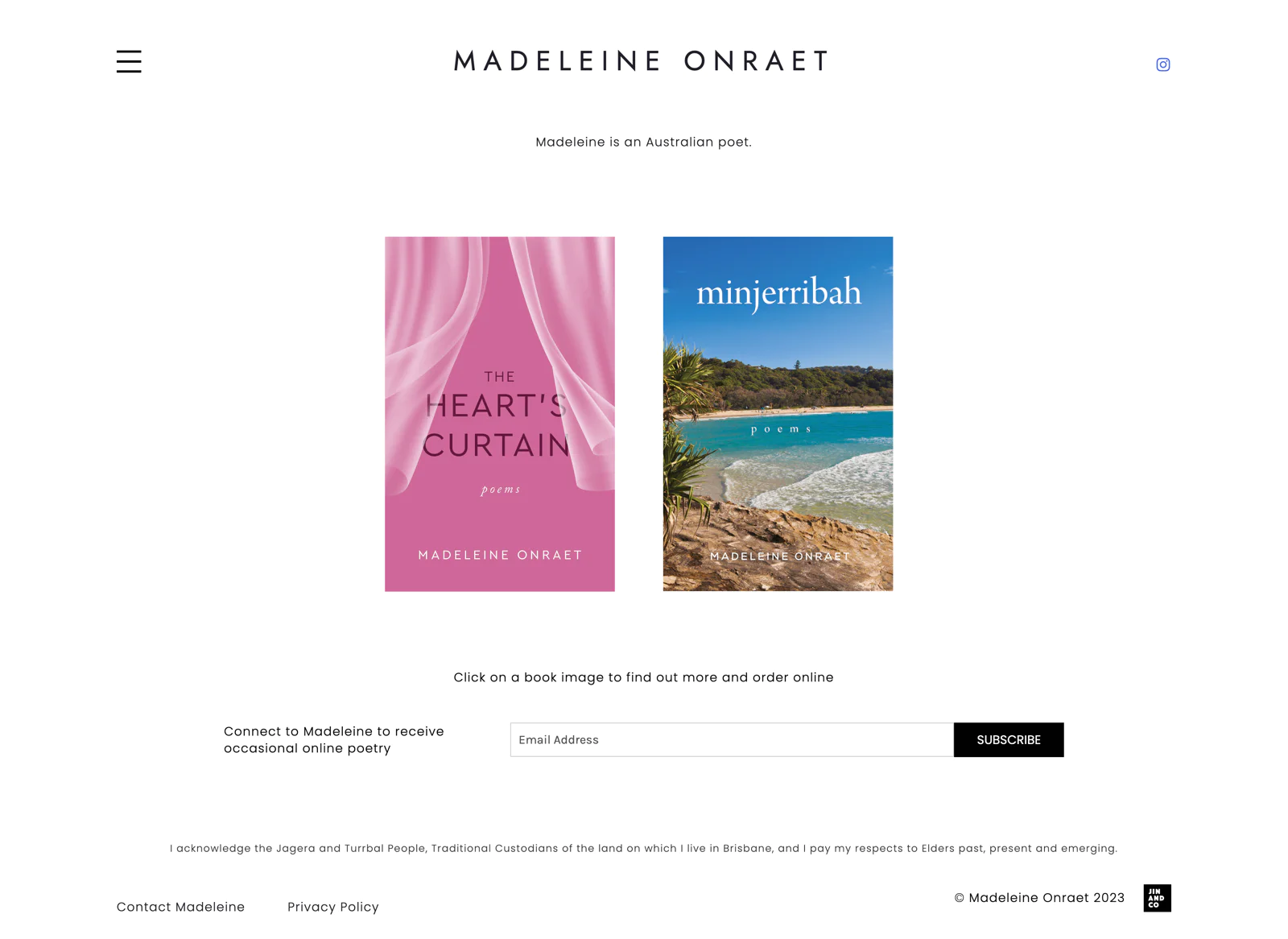 Madeleine Onraet
The clean lines, open space, and minimalism of Madeleine's website design and experience reflect the themes in her work. Her focus on presence and mindfulness is mirrored in the uncluttered and spacious design, providing visitors with a clear and peaceful browsing experience.
The spirituality and nature themes in her poetry are represented through the use of soft, earthy tones and nature-inspired imagery, creating a connection between the content and design of the website.
Overall, the design and experience of Madeleine's website create an atmosphere of serenity and contemplation, which is consistent with the themes in her poetry.
Understanding the importance of search engine optimisation (SEO) for poets' websites
Working closely with Maggie Somerville, we ensured that her site was optimised for search engines to make her work more easily discoverable.
We collaborated with Maggie to include a range of content related to her work as a poet and performer, such as products for sale, short films that she has produced, and lyrics from her latest album, 'The Walking of the Moon-Woman'. Together, we recognised that this diverse range of content is crucial when it comes to considering SEO for a writer's and performer's website.
Our joint decision to incorporate this range of content on Maggie's website increases the amount of searchable and relevant content that can be associated with her name and work. This, in turn, provides more opportunities for search engines to find and index her site, leading to increased visibility in search engine results.
Maggie Somerville
By providing valuable resources such as lyrics, merchandise, and short films on her site, Maggie engages her audience and encourages sharing on social media platforms. This generates backlinks to her site, which further improves her search engine rankings.
In essence, our collaborative effort with Maggie to include a diverse range of content on her website not only enhances the user experience but also improves the search engine optimisation of her site, making it more discoverable and visible to a wider audience.
Developing a unique brand image for a poet's personal website
Abdiel Leroy's portfolio website is a great example of how a poet's website can be personalised to reflect their brand and promote their work.
Our collaboration with Abdiel allowed us to highlight his personal brand and unique offerings on his website. With his Bible-inspired storytelling, mythology, and audiobooks, as well as his career highlights, including his appearances in major Shakespearean roles and his one-man shows, we were able to create a website that showcases his diverse experiences.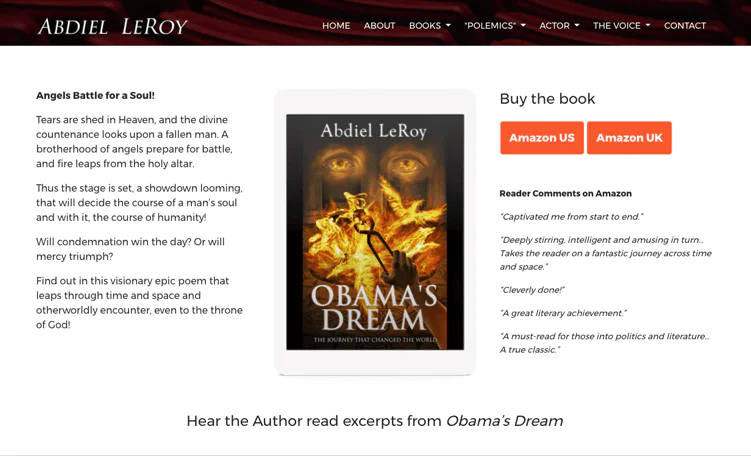 Abdiel LeRoy
Together, we understood the importance of branding and marketing in creating a strong online presence. By highlighting Abdiel's personal brand, we were able to create a website that not only reflects his personality but also helps him to connect with his audience and promote his work. We believe that a poet's portfolio website should be a platform to showcase their work and build their brand, and we are happy to have worked with Abdiel to achieve that.
Use social media to share poetry, and engage with other poets and readers
Websites for poets should allow readers to follow the author and share their work with their followers. Many poet's site include social media icons that link to the author's profiles on different platforms.
Sophie Chenoweth
A big part of the experience of poetry is how it's read. Unlike other forms of writing, the sounds and rhythms of poetry can have a profound impact on how it's understood and appreciated.
That's why one tip for poets looking to create a website is to include videos of their readings. By posting videos of readings on their website, poets can provide audiences with an opportunity to experience their work in a new way.
Videos can also help to showcase a poet's unique style and delivery, making it easier for readers to connect with their work.
"I didn't have time to learn how to create my own website and I wanted a professional looking, easy to use design. I was especially happy with how easy Jin made the whole process and how detailed his emails were to me. Jin was helpful throughout the whole process and explained elements of running a website to me that I was previously unaware of."Madeleine Onraet
Our unique approach to creating a website for poets
We offer a unique approach to web design for poetry author websites, providing pre-made designs that can be viewed prior to purchase.
Check out our collection to see our available designs and find one that suits your needs.
If you have any other questions, you can also find me on Twitter at @JinAndCo.
FAQ
Why do I need a website for my poetry book?
Having a website allows you to showcase your work to a wider audience and promote your book online.
What should I include on my poetry author website?
Your poetry author website should include a selection of your work, information about your writing process and inspiration, a bio or 'About' page, details about upcoming events or publications, and links to your social media profiles.
What is the best poetry website?
When it comes to finding the best poetry website, it's important to remember that the answer is subjective and varies depending on your personal preferences. However, some popular websites that feature contemporary poetry include Poetry Foundation, Poets.org, and The Poetry Society.
Is there a website for poems?
Yes, there are several websites that feature poems from a variety of poets and styles. You can find contemporary poems on websites such as Poetry Foundation, Poets.org, and The Poetry Society, as well as classical poems on websites such as Poem Hunter and Poetry Archive.
How to help people find my poems online?
To help people find your poems online, you can optimise your website for search engines by using keywords, and meta descriptions. You can also share your poems on social media such as Twitter, Instagram, and YouTube, TikTok to increase your reach and engagement. Try submitting your poems to online poetry journals and publications can increase your visibility and credibility as a poet.
Should I hire a professional or create my own poetry author website?
It is possible to create your own website using website builders like WordPress or Squarespace, or WIX. You'll need to consider design, content, SEO, branding, and social media to create a successful poet website. So, if you're looking for a more polished and professional-looking site, it may be best to hire a web designer or developer – or even better, an author website specialist.