When to get an author website?
Last updated 03 April 2023
Written by Jin Wang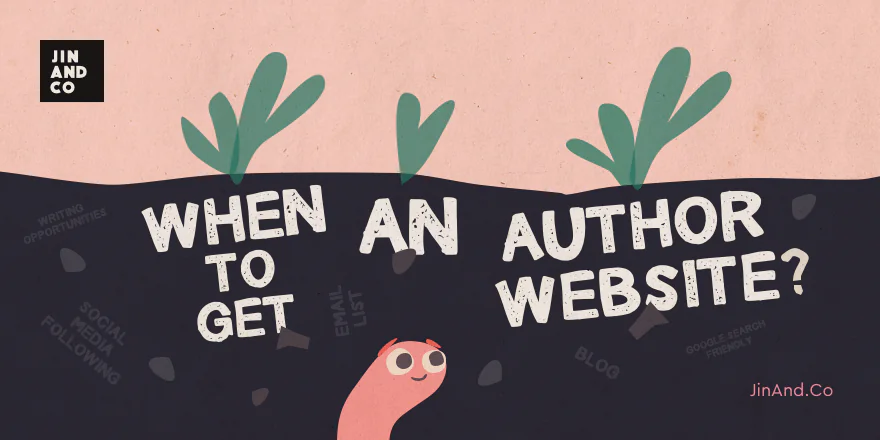 Every now and then, I get emails from writers interested in getting an author website online, but have yet to finish their books:
"I am interested in a custom author website design, but I'm not quite ready for it to go up yet. I am currently doing the edit runs for my first novel."
"Hi, have you created websites for unpublished writers? I am looking for professional help, but I don't have a book contract yet. I want to start building my author platform."
At the core, these questions are all concerned about the same thing: "Is it ok to get an author website even if my book is still a work in progress?"
The short answer is: Why not?
If you're not online, you don't exist, not to readers, publishers and agents, nor Google.
Table of contents
The Best Time to Get an Author Website Is Now
There are several reasons why it makes sense to get an author website even if you're still working on finishing your book or getting a contract.
Develop an online following
Building and launching your author website early gives you time to build an online following—yes, it's possible to build one even if your book isn't on the shelves yet. Through your website, you can leverage and centralise marketing tools like social media, email lists, and blogging. You can get people invested in your writing and your book, and give them a hub to come back to, where your previously scattered online presence can now be found in one place.
By the time you're ready to publish, you might already have an audience to launch to.
Opens doors for opportunities
A website is often the first point of contact with publishers and agents. Having your own website—especially if you're an unpublished author—shows that you're serious about your writing. It is the business card for your author persona and/or book. It can put you ahead of the curve of other writers in the same position, and get you onto the radar. In addition, when you have a significant number of followers, it tells them that there is a market for your work. An author website can put you on the path of securing that book contract, even if your manuscript is still in the works.
Make your site more Google search-friendly
In an earlier post, I wrote about being found on Google and outlined some of the measures we take to get an author website to page one of Google's search results. One of these is the domain name. In case you haven't got one yet, here are some tips in choosing the right domain name.
By setting up your author website early, you can 'age' your website and domain name, like a good wine—that is, give it plenty of time to be "seeded" in Google so it appears higher in search results.
In addition, you can use this time to promote your new site on other, more established websites (for example, on your publisher's website, or on reviewers' blogs) and build up quality 'back-links' to your site, which will also help improve its rankings.
More time to learn the world of online marketing
Your author website is your primary marketing tool—your central hub on the web. Given many authors are not marketers, it takes a considerable amount of time and effort to learn how to use this tool effectively. As with any learning process, mistakes will be made along the way. By setting up your author website early, you'll have more time to learn the ropes of (digital) marketing and promotion and correct any errors you make while there are fewer people watching.
By the time you're ready to publish, you'd have (hopefully) learned a lot of things about online marketing, which you can use to successfully launch your book.
Author website checklist
If you're ready to get an author website, here are the four most important foundational pieces for growing your online presence.
The website itself
There are many components of an author website—there's the home page, book page(s), about page, contact page, newsletter, to name a basic set. However, consider taking things a notch higher by incorporating other elements which will make your author website more unique, like video trailers, giveaways and freebies, or even a sneak peek of your upcoming book.
Blog
Most new websites and blogs often only contain a few posts at launch date. What you want, however, is a blog that populated with posts, dated at least a few months back. What to blog about? If you're a new writer, I always find it interesting to follow the journey of a writer publishing for the first time. If you're interested, I've written a blog post with some tips about blogging for writers new to the medium.
Email list and newsletter
Despite the popularity of social media as a marketing tool, I've previously argued that email is still the most effective promotional tool. It's a marketing asset which you own, and it's easy to set up. There are many platforms available to help you build an email list, but my tip would be MailChimp.
Social media integration
Social media is a powerful marketing channel for promoting your book. Go for the platforms that you enjoy using and can devote a significant amount of time to. This way, you'll be natural, you won't get bored or be pressured—and importantly, it won't feel like work.
Closing thoughts on when to get an author website
The simple answer to "when you should get an author website" is to get it up and running before you even get your book out in the market. However, it's also important you establish a solid foundation and personality for your new author website. A website is more than a URL.
It typically takes three to four weeks to plan, construct, design, and launch a new website. With that in mind, you'll want to contact a web designer at least a few months before your book's intended launch date. The problem is that many web designers are booked months in advance. Meaning, if you wait until your book is finished or published before contacting a designer, chances are you'll have to wait several months before the web designer you want will be able to begin the month-long journey to getting your website launched.
If you need more help getting started, or are still unsure about getting a website, get in touch, drop a comment below, or subscribe for more articles like this for more tips.