What librarians look for in author websites – Part 1
Last updated 01 June 2023
Written by Jin Wang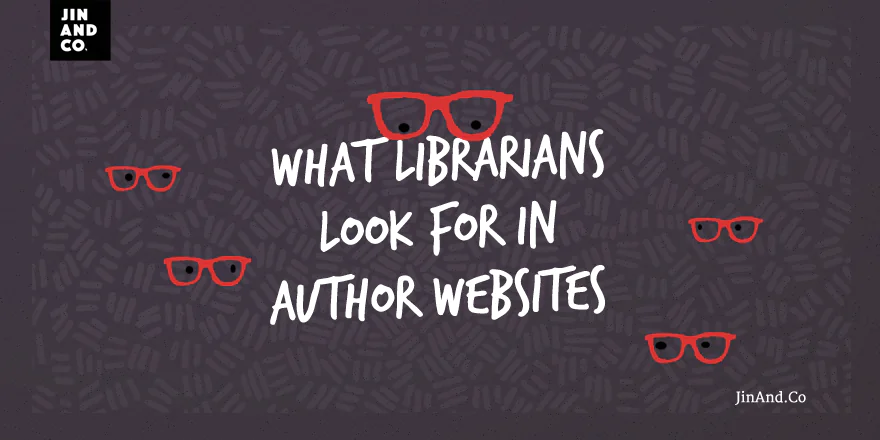 Looking for ways to improve your author website to appeal to schools for speaking events? In this 2-part series, I speak to 4 librarians that generously shared their thoughts.
Getting 'employed'
A website is a great medium for writers and illustrators to find more opportunities to get 'employed'.
One such opportunity comes in the form of speaking engagements for schools. Many schools invite authors to their school – during Book Week for instance – as guest speakers or to run writing workshops. I spoke with four librarians who generously shared what they look for in an author's website, here's what they had to say.
Start by creating content for your specific website audiences
In a previous post, I outlined 6 website ideas for children's authors and illustrators to engage their audiences. It first covers determining your website's audiences, and then provides you with good starting points for creating engaging content for each segment. Today let's look specifically at what librarians look for on your website.
Who chooses the author for a school visit?
Head librarians or teacher librarians are usually responsible for finding and contacting authors whom they are interested in inviting to speak.
Some librarians begin their search at the start of the school year, while others do so as early as the previous school year. The reason is two-fold: one, they want to make sure that they create a good list of authors to choose from, and two, in order to notify the chosen author in advance so that he or she can prepare and make himself or herself available for the event.
What factors do librarians consider?
In choosing the potential speaker, head librarians or teacher librarians have a list of questions, and use these as criteria for determining whether or not an author is a right fit:
What's the overall theme of the author's book?
How appropriate is the author's book with regard to the audience and their grade level?
How does the author's book blend in with the school curriculum?
How popular is the author and the book?
Is the author and the book highly recommended?
Getting a librarian's attention
This is where your website comes into play. To ensure that your website gets a librarian's attention, you first need to know what exactly they're looking for. In part 1 of this series, we look at how your website's design is important in getting booked for speaking events.
As they say, you never get a second chance to make a first impression. In a study of first impressions of websites, Google found that it takes about 50 milliseconds (that's 0.05 seconds) for people to decide whether or not they like your site, and if they'll stay or leave.
The psychology of simple and familiar designs
A sleek website that incorporates modern and interactive features is one kind of author's website that librarians really love. Julia Louise, a newly graduated teacher librarian and debut children's book author says,
"The website should have a modern and attractive design, not something that looks like it's from 15 years ago."
Julia recommends Australian artist and writer, Shaun Tan's website as a good example of an aesthetically appealing author's website.
What makes Shaun's visual design so pleasing? Google's study found two factors that contributed to a website being perceived as appealing:
Low visual complexity: make your web design clean and simple
High prototypically: people have a fixed idea of how an illustrator's site should look, don't reinvent the wheel
Base your website's design around your book's themes
Susan la Marca, is a consultant in the areas of children's and YA literature, and current Head of Library and Information Services at Genazzano FCJ College in Melbourne.
"I am most attracted to author sites that are visually appealing and clearly themed to the books."
Basing your visual design on your book's themes works whether you're a debut author with a single title, or well established with many title spanning multiple genres and age groups.
Consider finding a theme that runs through all of your work, or a particular graphic motif, texture, or colour palette, that represents your style.
Quick and easy navigation
Another thing that is important to Susan (and any other visitor to your site) is how easy will it be for her to navigate.
"I most want clear navigation that enables me to find what I want quickly and easily", Susan says.
The difficulty of navigating through a website can be a huge turn-off for visitors, a barrier to accessing your content, and ultimately a prompt for people to leave your site.
Here are a few DOs and DONTs of website navigation:
Don't over-decorate your main menu, use clearly spaced keywords that visitors are used to
Don't put your book's title in the main menu, call it the link 'book' or 'books', and put your book on that page
Do use standardised names for main menu items. Name your biographical page 'About' Even if your blog has a thematic name, call it 'Blog' in the main menu
To create a consistent style for all links on your website. Make text links underlined, or use a contrasting colour to the main body font colour
Do make button styling large, consistent, and prominent
Do make sure your main menu works seamlessly on a mobile device
Website navigation should be like a good friend: there when you need them, but good enough to give you your space.
Summary
Your website is a great medium to get you 'employed'
Create content specific to your website's audiences
Authors can be shortlisted as early as the previous school year
Librarians look for books with themes that blend with school curriculum
Librarians prefer simple and familiar website design
Make your site easy to navigate, with a clear main menu, and button styling, so librarians don't have a hard time finding the information they need
Your website's visual design is only half of the story. Part 2 of this series is all about building your credibility and reputation. I'll highlight 5 more areas that librarians look for in a writer's website.
So you don't miss it, subscribe to my email articles below.
Did you find this article helpful? Do you know some authors who can use this information? Do show some love and give it a thumbs up or share it with your friends.