6 website ideas for children's authors and illustrators to engage their audiences
Last updated 13 June 2023
Written by Jin Wang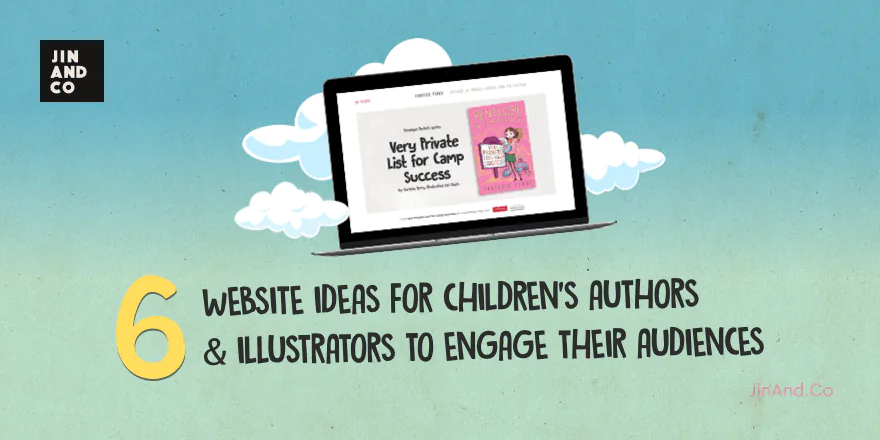 If you create for children, it's clear who your 'work' is for, but who is your 'website' for?
Often this question goes unresolved and children's authors and illustrators revert to the most basic of content – trying to appeal to all, but ending up engaging none.
Knowing your audiences and the reasons they visit, should determine the content of your website. Here are 6 tips that will have you providing engaging content for all of your target audiences.
Want to download this article to read later?
1. Offer fun stuff for kids
Add some fun stuff for kids to your website, such as links to download activities and free stuff. I recently spoke to Lian Tanner, author of The Keepers Trilogy, about her page dedicated to freebies for kids.
"In my experience, kids really like extras – things like free bookplates, quizzes, bits of the story that didn't make it into the final book etc." Lian said. "It's a way of engaging even more with a book or series they've loved, taking something away with them, providing a bit of story-after-the-story."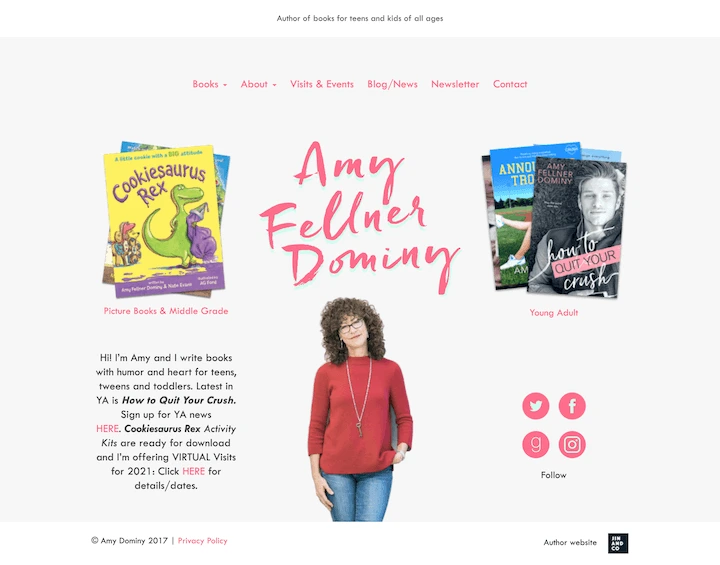 Showcase character cards for kids and parents
For younger audiences, drive exploration of your content through visuals. New Zealand based YA author Cath Mayo, tells her life story using large personal photos.
"I think engaging with a website is a very visual process." Cath says.
"I've used this technique a lot on my website – especially on my About page, "Thirteen Interesting Things About Me" and for my 'The Greek Bronze Age' page and 'Odysseus's Dagger'."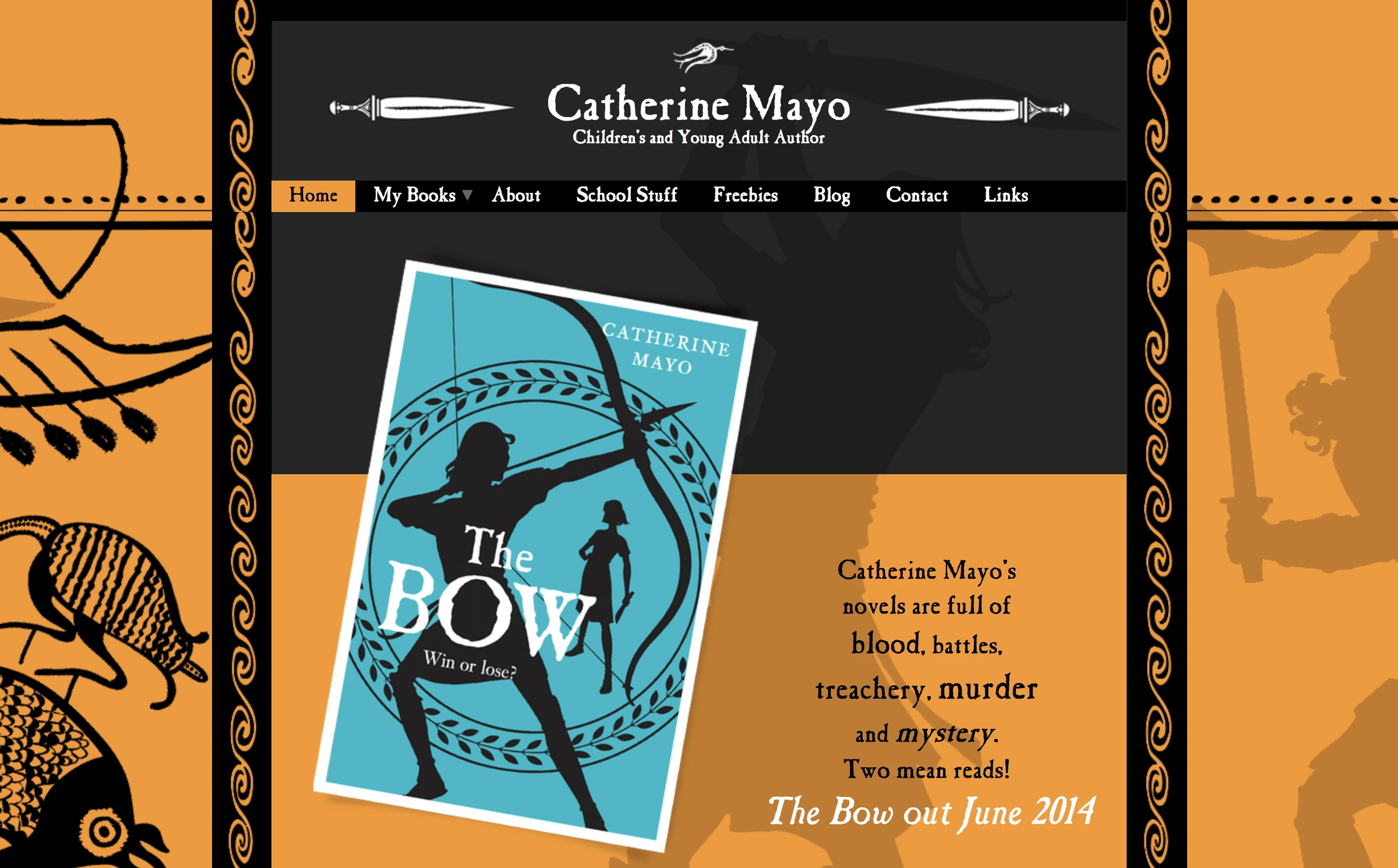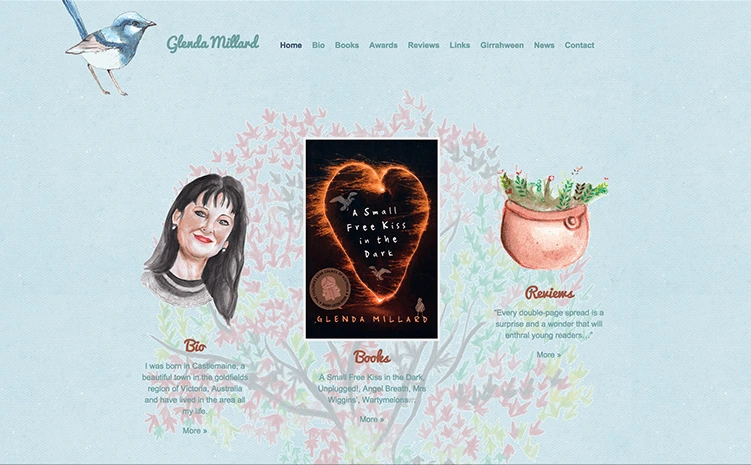 3. Answer Frequently Asked Questions
Rainbow Rowell, author of the 2015 Inky Award shortlisted, Fangirl, has a brief 'About' page, but also uses a (humorous) 'FAQ' page to give fans snippets of trivia and links for further reading.
Here are more FAQ examples by Fiona Wood, G.J. Stroud, Karen Tayleur and Vikki Wakefield.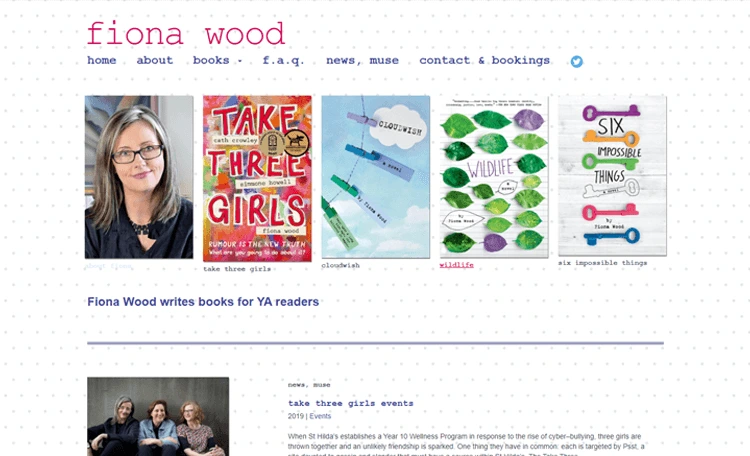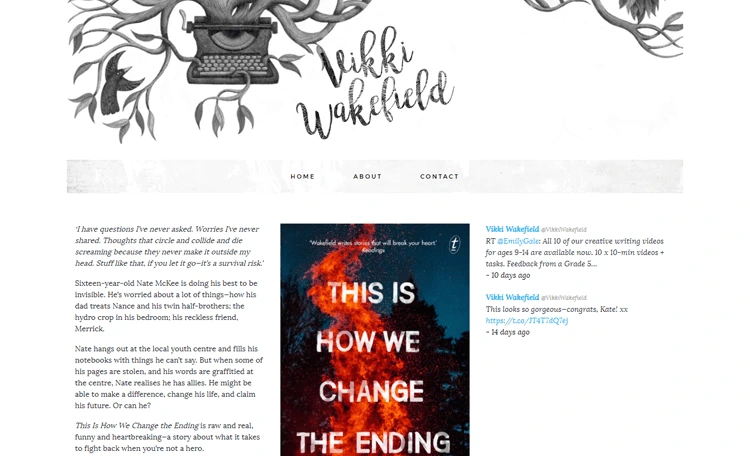 Showcase letters and artwork you receive from young readers
Chrissie Perry has a special page for children to write messages to Penelope, her popular children's book character. When kids write in, Chrissie publishes them to her website for all to read.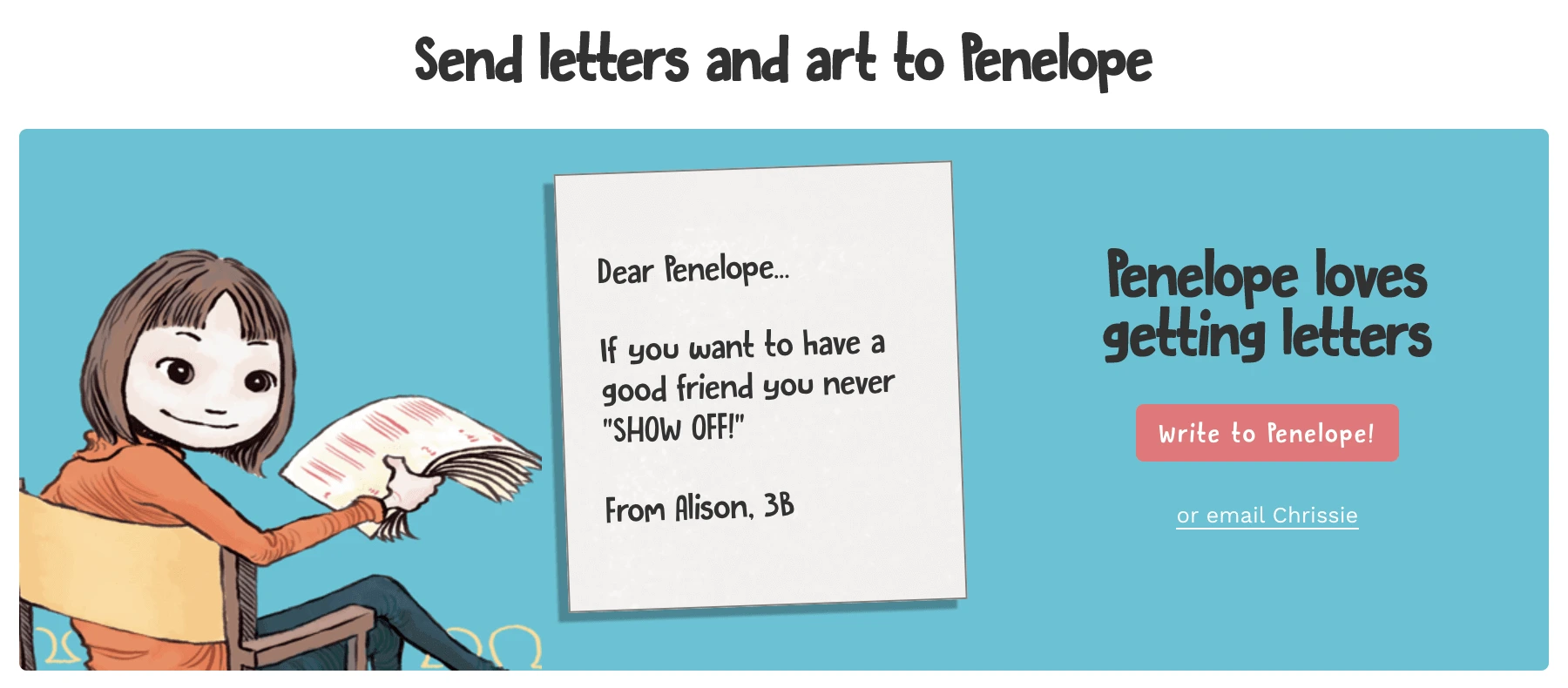 Want to download this article to read later?
4. Take the work out of hiring you for school visits
Teachers in schools are always looking to book speakers, especially around Book Week. Add a page that covers your speaking events in detail. Although children's book authors don't like blowing their own horns, your bookings may benefit from thinking more like a salesperson.
School speaking events are often tied to a theme or part of the curriculum. Librarians also book authors across year levels. Show teachers and librarians how your book and workshop, align with what schools are doing, and what year levels it would be suited to.
5. Create content that spans multiple audiences
If you're an illustrator, your website isn't just for children, teachers, and parents, it's also for prospective clients – other authors and Publishers.
Including your work–in–progress sketches, gives people a reason to 'follow' you, and offers insight into how you work. Give people access to your workspace. Melbourne-based author and Illustrator, Anne Ryan, produced a video to invite people into her studio.
"I made the video to catch the publisher's eye by projecting my professional commitment to my trade as an author/illustrator."
"Through my work in schools, I could see that teachers were looking for short grabs to present to their students that would not take up a whole lesson."
"Students enjoy researching through YouTube. Videos are easy to access and they can gain a lot of information quickly through this visual platform."
By investing a bit of time in the video, Anne was able to create a piece of content that inspires kids, helps schools book her for school visits, and lands her more illustration commissions.
"The video has been a very successful tool for raising my profile and sharing my work across different platforms."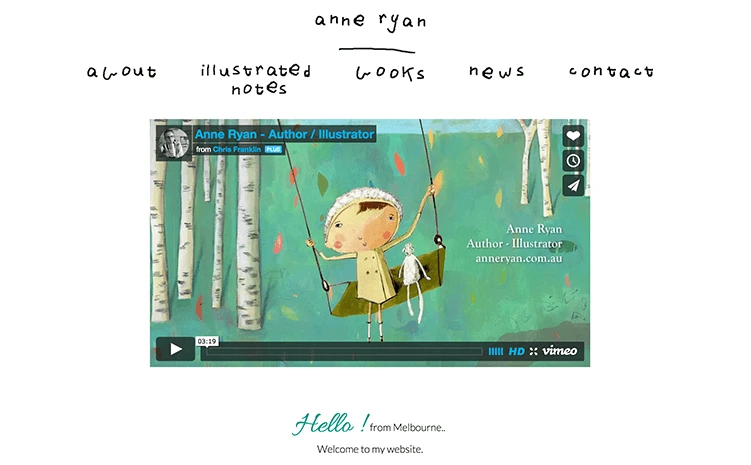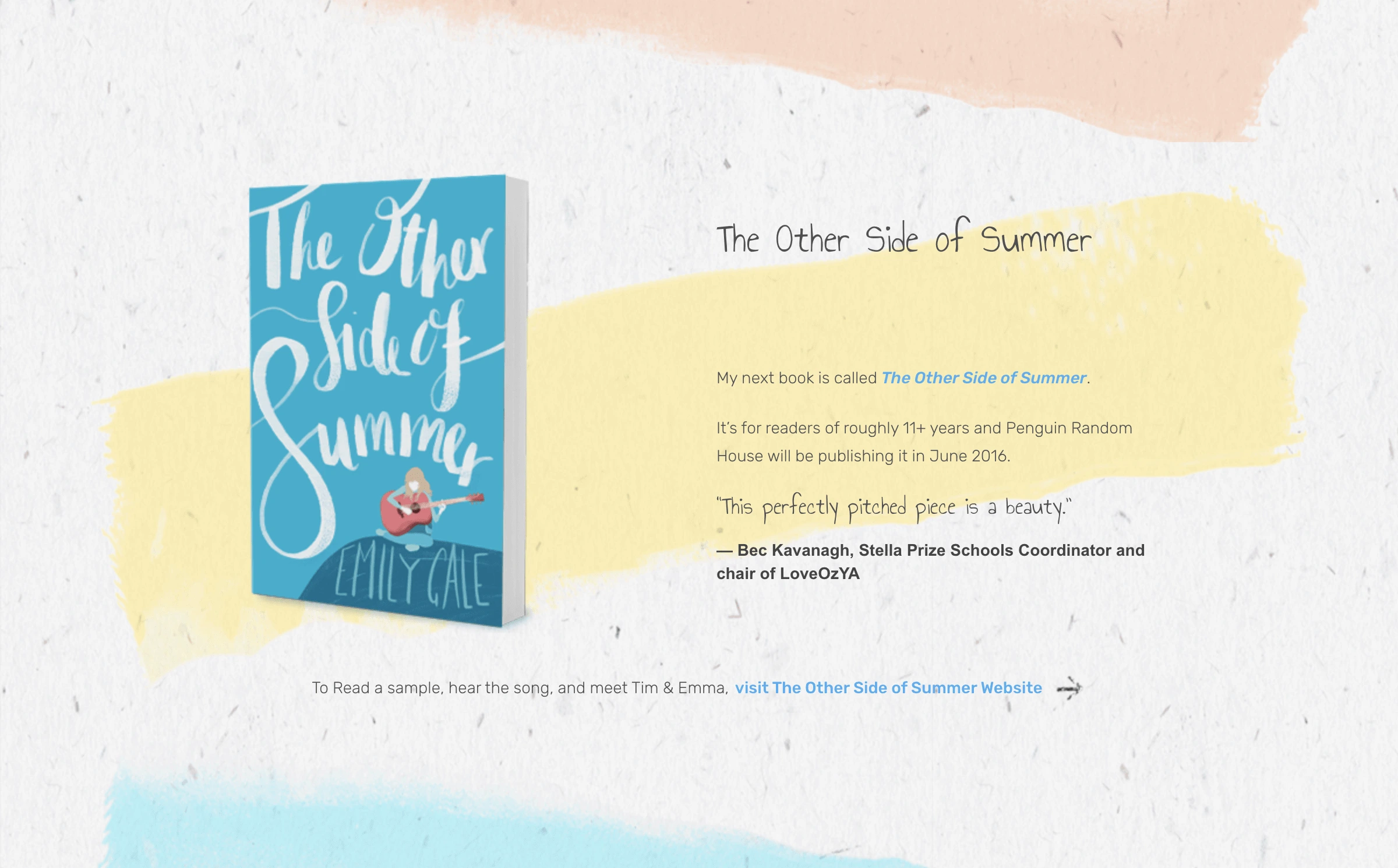 Children love music. Add a soundtrack to your book and website.
Emily had an original song written especially for her book called 'The Other Side', performed by Tim Reid and Emma Heeney. Tim offers a guitar tutorial to learn some of the basic chords and strumming techniques. The lyrics and guitar chords are also in the back of the book.
6. Demonstrate the values behind your work
Another segment in your target audience could be parents that purchase books for their children and friends.
Simon Sinek, author and motivational speaker, suggests that people buy what you 'believe', not what you 'sell'. In a subtle way, weave your values into your biographical information. If you can communicate your worldview and values, like-minded people will seek out your work. Parents don't just buy books for entertainment. Your books are valued development tools for their children, teaching them important life lessons.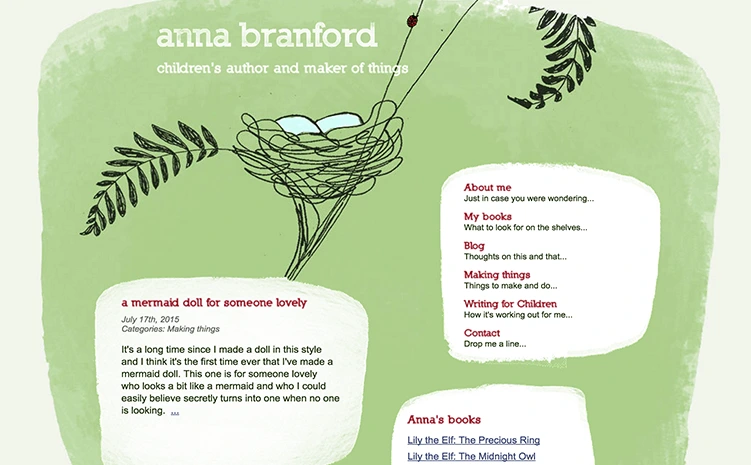 Summary
Centre your website around great content that's tailored to your website's audience segments
Offer fun and free activities and downloads for kids
Tell your story visually, with personal photos
Use an FAQ to give fans a fun way to find out more
Make it easier for schools to book you. Get your sales hat on and 'pitch' your speaking events
Give people a look into your creative world
Content that spans multiple audiences can be a great investment
For parents communicate your values and why your work is important to their child's development
Know someone that might like this article, I'd love you to share it.
A look at a recent author website success story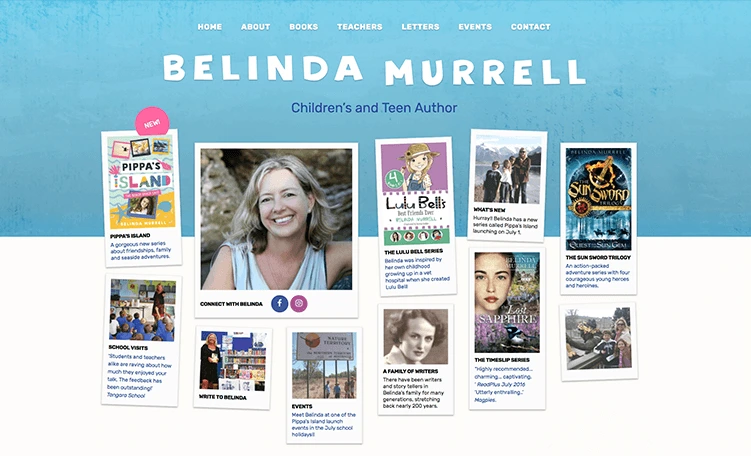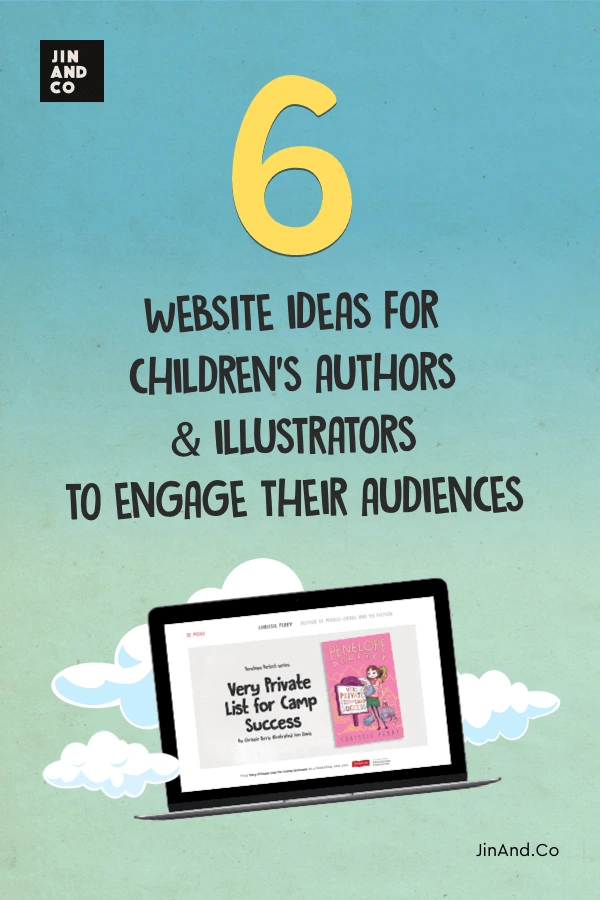 "After ten years, my old author website was tired and outdated.
I asked Jin to help me design a new website that was fresh, modern, warm, welcoming, easy to navigate, and reflected a strong sense of my author brand.
I'm absolutely thrilled with the new design and can highly recommend Jin."