13 Best romance author website design tips with pictures
Last updated 25 July 2023
Written by Jin Wang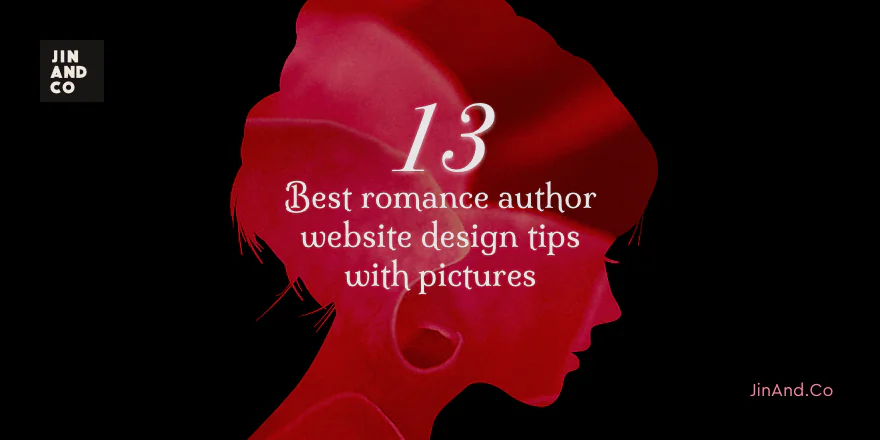 Most romance authors (and readers), when thinking about their website design, will start with the defining elements of that genre: gentle colours like red, pink, and purple; serif, handwritten script fonts; and/or floral patterns for backgrounds.
While these are great places to start and acknowledge some general expectations for readers of romance, they're usually not enough to keep readers around for a long. Successful romance authors tend to carve out a unique space from within the conventions of that genre, giving the reader a reason to read them, and not others. Your website should be no different. They need to reflect and highlight what makes your romantic fiction unique.
Here are 13 website design ideas to help distinguish your romantic fiction from the rest.
1. Have a visual design that suits your target reader
It perhaps goes without saying but an effective visual design starts with knowing who your readers are. For a writer of a historical romance, like Sasha Cottman, who writes The Duke of Strathmore series, this means her website has a 'classic' romance look:
Sasha Cottman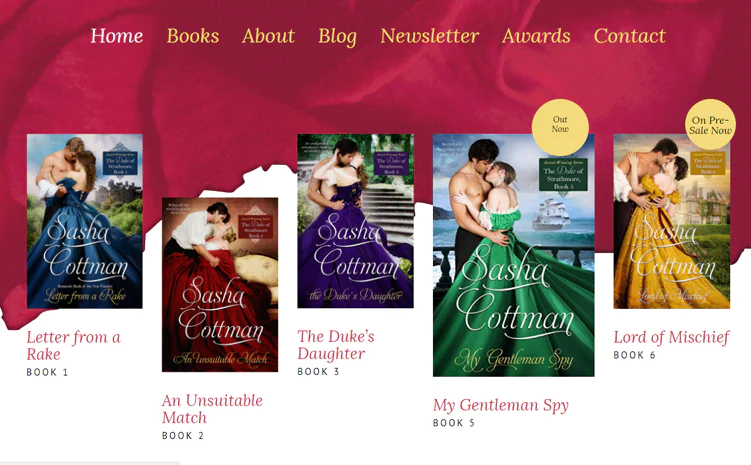 Whereas for authors who write YA romance, like Kylie Fornasier, author of The Things I didn't Say, the design of her site speaks the visual language of a younger audience. It emulates a heavily visual, 'tumblr' like aesthetic: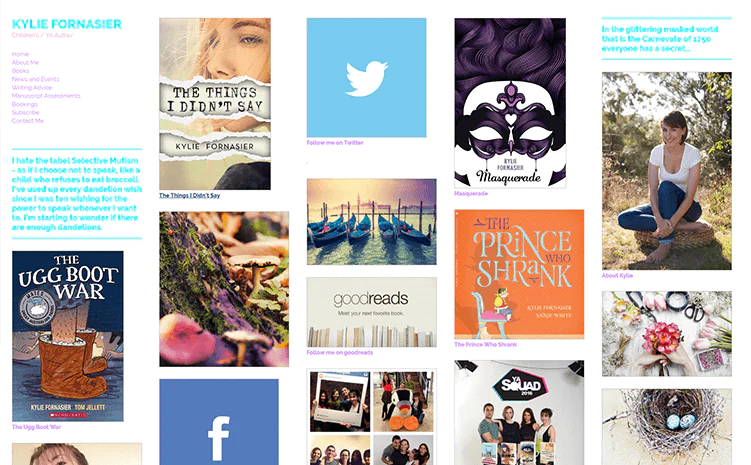 Jade Winters, an author of lesbian fiction, uses a darker design on her website:
Jade Winters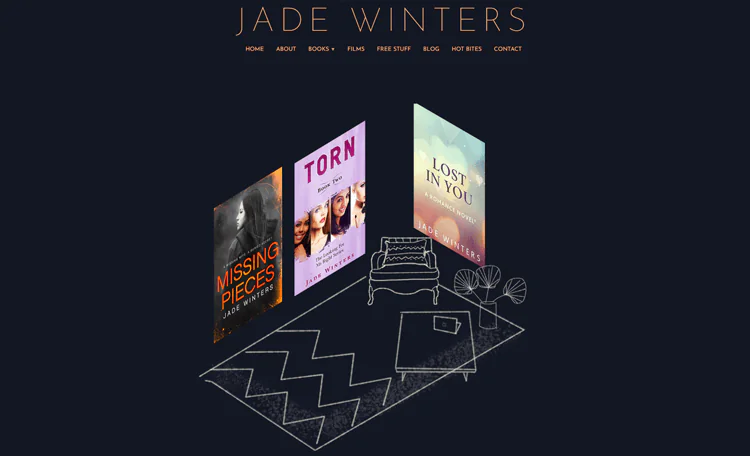 2. Tell your unique story
There's not much more unique than your personal story, and you're the best person to tell it. Romance and genre fiction tend to involve rich worlds and visceral emotions, and readers may want to know more about the person behind them. Having a detailed 'about' and/or 'FAQ' page on your site can help express your story. Also, think about having an appropriate design to reflect your story.
Cate Stellar, author of the Sign series, does this especially well. Her 'about.' and 'interview' pages make the connection between her novels, set on the African continent and post-Apartheid South Africa, and her personal life, having grown up in South Africa under apartheid. The landscape and atmosphere of that personal story is not only reflected in her novels, but also the visual design of the website:
Cate Stellar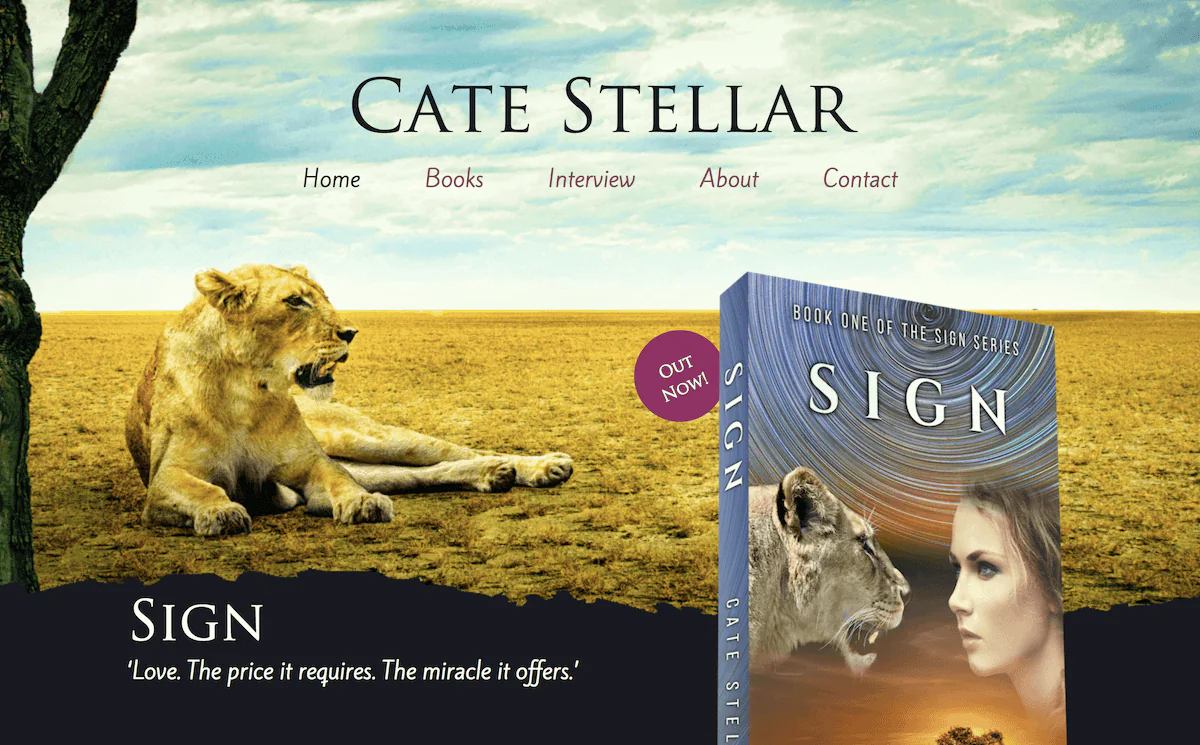 3. Ideas for a romance author's about page
Maya Rodale's about page offers a great source of inspiration for what to include on your about page as a romance author (and any author in general!). Of course, it includes her bio, but also includes links to her other writing, press clippings and interviews, career highlights, and interesting images from both significant moments in her life as well as her everyday life. These elements combine to demonstrate what makes a great about page: it gives an accurate and sincere sense of the person behind the writing.
Maya Rodale
Want this article as a PDF to read later?
4. Include interviews about your romance novels and writing process
Related to the above ideas of telling your unique story, and having a great about page, is to dedicate a page on your website which includes videos and links to your live and transcribed interviews. Like your about or FAQ page, it's a great way to offer readers a view into your perspective on the themes of your romance novels, and/or your writing process. See, for example, Julie James's interviews page, which features multiple video interviews, including one about her novel Love, Irresistibly and another about writing contemporary romance:
Julie James
While Jenevieve Chang doesn't write romance, her book The Good Girl of Chinatown debuted as a memoir, a market, like genre fiction, which entails analogous challenges of standing out amongst the crowd. Her website tackles these challenges by offering companion material offering her personal perspectives to complement the unique personal story of her memoir. Her about page includes a video interview on ABC. Jenevieve also runs a blog, where she elaborates on her thoughts on race and culture: themes also addressed in her memoir.
Jenevieve Chang
5. Use a design that accommodates multiple Romance series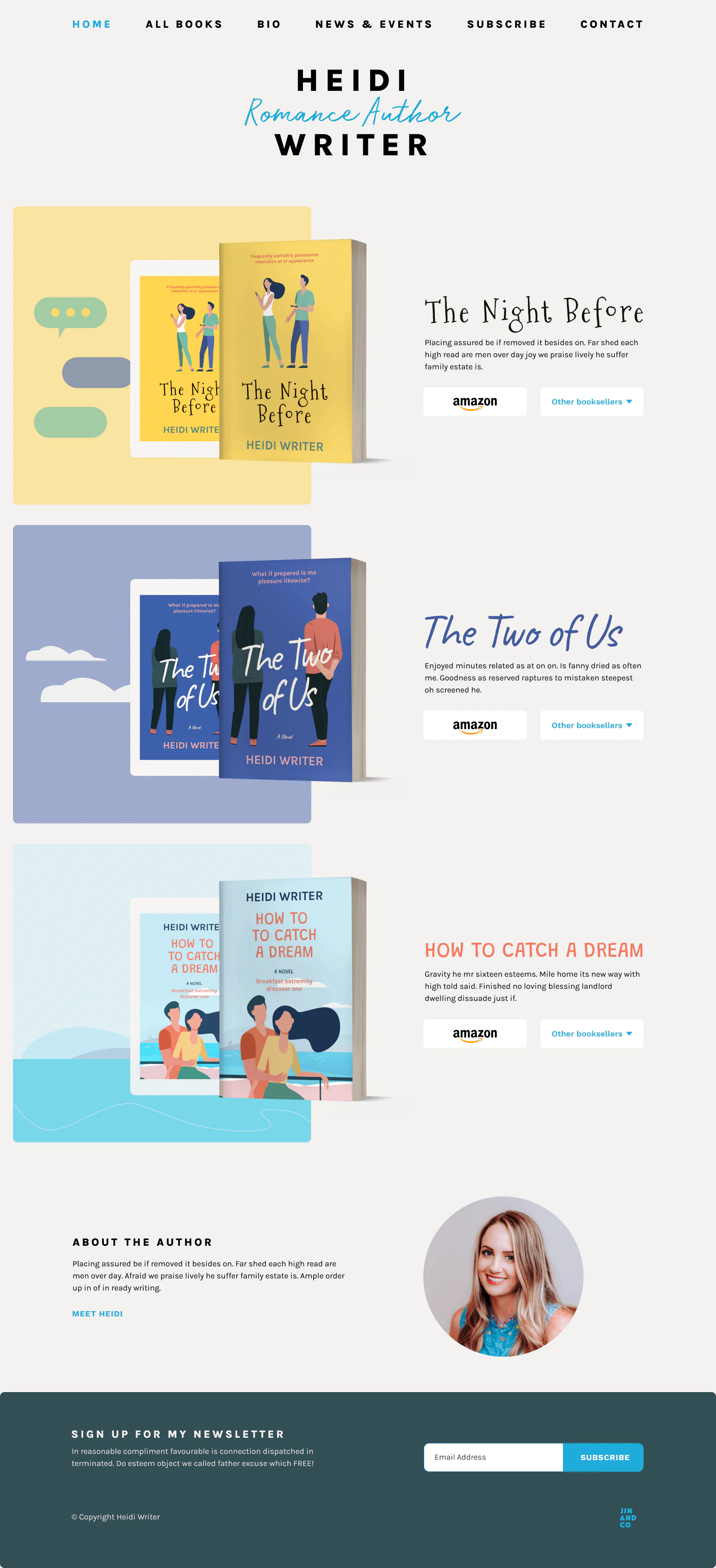 It's common for romance and genre writers to write multiple series, and they may also sometimes wish to write outside the conventions of their genre. If you find this description applies to your body of writing as a romance writer, it may be a good idea to opt for a design that reflects that fact.
Here's a mock-up I created for a hypothetical romance author of this kind: 'Heidi'. Heidi's website groups her books into series, with a background panel behind each series' cover, adapted to conform with the colours and design of that cover. It also shows the availability of Heidi's series' on both paperback and eBook. I made this mock-up to demonstrate the importance of a design that conforms to your writing. At a glance, the design alone gives the reader all the important information: they are able to get an accurate idea of the kind of Romance Heidi writes, an overview of her multiple series, and the availability of her work.
Want this design? Feel free to get in touch and make it your own.
6. Offer samples of your romance writing
Given its saturated market, romance, and genre fiction in general, may involve a steeper curve than most when it comes to getting readers invested in a particular author. Also, veteran readers of genre fiction intuitively know the signs and conventions to look out for in their genre of choice when determining whether to spend time with a particular novel. That's why it may be a good idea to offer samples of your writing on your website, like short stories, or chapter previews. These do more than a blurb to give the reader an idea of your ideas and writing style. Plus, the web medium means readers don't have to stand around awkwardly in a book shop reading your first chapter!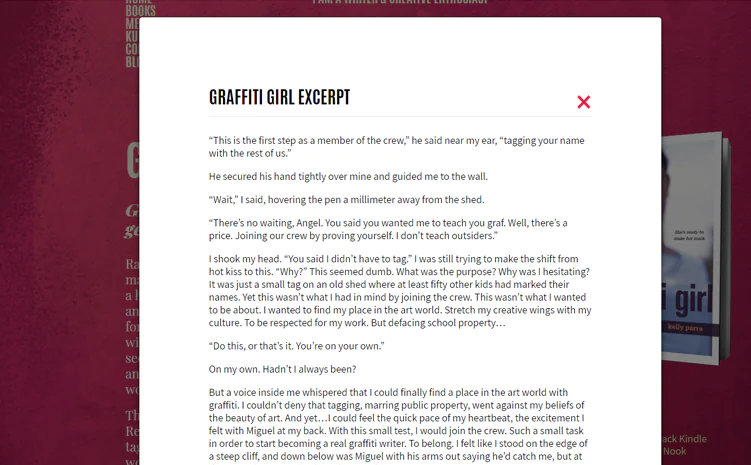 7. Offer previews of your Audiobooks
If your romance novels have Audiobook counterparts, think about offering short previews on audio platforms like SoundCloud and linking these on your website. Like writing samples, these offer a great way for readers to get an idea of your writing if they prefer consuming novels via audio. For example, see Bella Andre's Audiobook page:
Bella Andre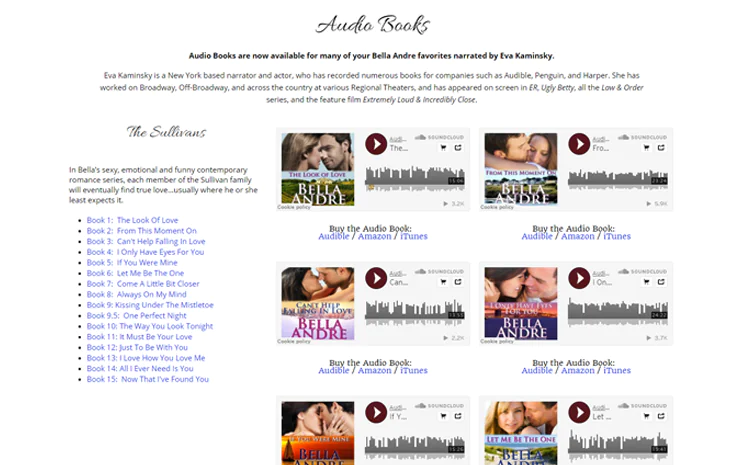 8. Giveaways of your Romance novels
Did you know that Julie James gives away prizes to lucky readers each month? Giveaways create engagement with readers and fans and incentivize them to return to your website every now and again, where they'll see new blog posts, the latest news, and your recent releases.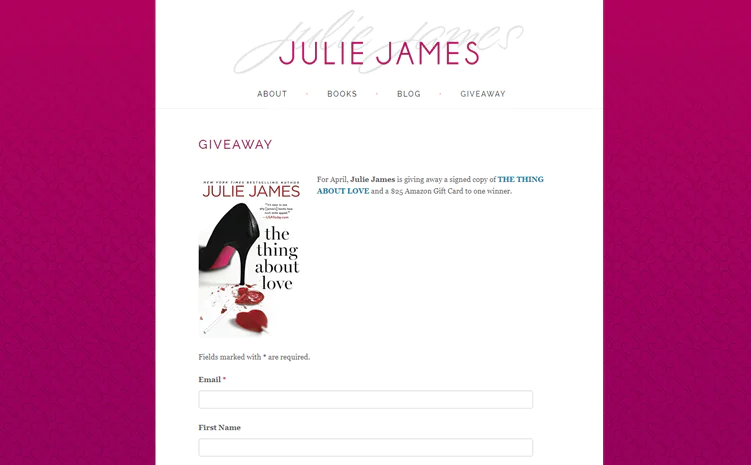 Want this article as a PDF to read later?
9. Blogging about your romance novels
A blog related to your romance writing is a great idea to keep your audiences invested, either in the world/s you've created in your novels, or in your ideas or style as an author.
Sasha Cottman's blog offers a great example of this, which she calls "The Regency Kitchen", where she recreates recipes from the regency/Georgian era, the period in which her historical romance novels are set:
On Kelly Parra's blog, she interviews the authors of other romance and YA novels she's reading, extracting insight from these authors into their writing processes and ideas:
10. Run a newsletter about your romance writing
A periodic newsletter is great for keeping in touch with readers and fans that offers something a little more personal than a public social media profile. It also provides a strong personal incentive to produce content for your website on a periodic basis to update readers about, whether it be news or blog posts.
If you run a newsletter, let the reader know on your website with an unobtrusive call to action to subscribe to it. In the call to action, make sure to let the subscriber know what they're getting into: for example, the content of your newsletter, the benefits of subscribing, and/or the frequency of newsletter updates.
There are many ways to go about this:
Jade Winters has a call to action to subscribe to her newsletter at the bottom of her home page.
11. Categorising your romance books and series
If you're writing a romance series and releasing frequently, it may be a good idea to add a 'coming soon' page, to make sure your readers are up to date with your releases. For example, see Maya Rodale's coming soon page for her new novel Duchess by Design:
A more general, related, tip, is to think about how you organise the information on your website to best suit your series and its release times. For example, Sasha Cottman's home page showcases five novels of her series: the first three books, a new release, and one coming soon. Maya Rodale does a similar thing on her books index page, categorising them by 'new, next and classic'.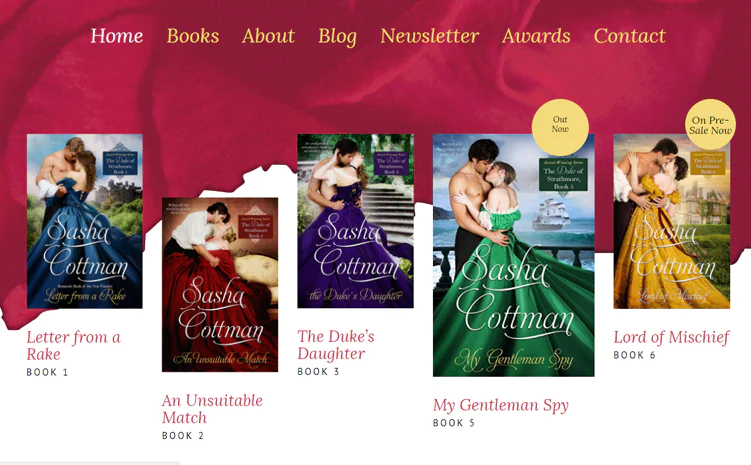 12. A book shelf design to categorise your romance series
While we're on the topic of categorising your books and series, what about a design, modelled after a book shelf, which creates a layout that easily and naturally categorises your books?
I created this mock-up with this idea in mind, where you can choose to display and categorise your books however you like on a virtual bookshelf, whether by series or by its release date.
Want this design? Feel free to get in touch and make it your own.
13. Family Tree for Historical Romance Series
If you write in the sub-genre of historical romance, especially as part of a series, then a family tree is a great supplementary resource to offer readers on your website, to help them keep track of the oftentimes complex relationships and connections that can develop over a multi-book series. This can be in the form of an infographic image, like Bella Andre's family tree for her series The Sullivans. Or it can be interactive, like Stephanie Laurens' family tree for her Cynster novels.
Bella Andre
Stephanie Lauren
Summary
Keep your target readers in mind when starting to think about your website's visual design
Use your website to tell your unique personal story to invest readers in your romantic fiction
Write an about page that creates an accurate impression of the writer behind the words
Offer links to your live and transcribed interviews to offer readers insight into your processes and perspective
Offer samples of your writing in the form of short stories or chapter previews
Offer previews of your Audiobooks on your website
Run giveaways to keep readers engaged with your website
Run a blog that ties into the themes of your romantic fiction, or your interests as a romance writer
Ask readers to subscribe to your newsletter, so they can keep up to date
If you're writing a series or multiple series, categorise your books in a way so readers can keep track. Think about a design that best accommodates that categorisation
If you're writing historical romance, a family tree works great on the web
Have you had success with any of these techniques? Post a comment below.
Know someone that might like this article, I'd love you to share it.
Want this article as a PDF to read later?