10 Things every author should have on their home page
Last updated 01 June 2023
Written by Jin Wang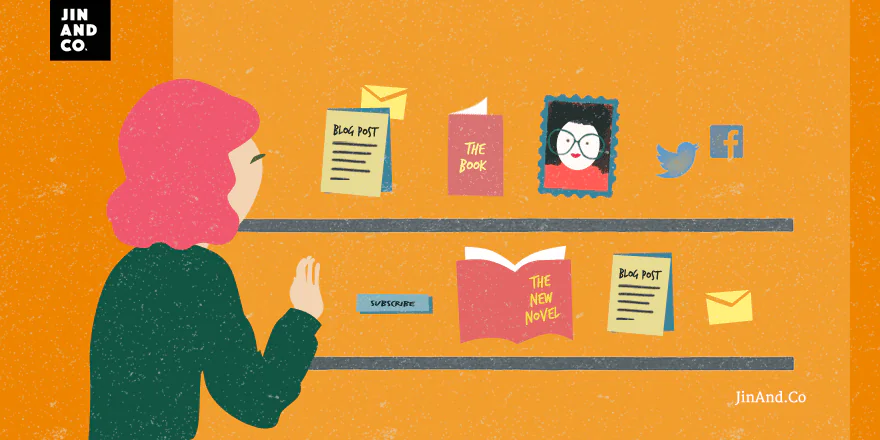 Home pages used to be the most important page on a website, containing as much info as we could pack in. But times have changed. Here's how authors can make a winning first impression.
These days people want solutions and they want them fast.
You clicked my headline and want the answers injected into your brain – no reading.
Here's the closest thing: straight to the summary.
Summary
Your website home page gets the most views (stop the press!)
Don't cram everything into your home page
Give your home page one clear focus
Keyword stuffing for Google is no longer advised
Myth: People always enter your site via the home page
Determine your primary audience and what they're looking for, then help them get there fast
Beginner tips: Photo, book, email list, key sections, social media links, call to action
Intermediate tips: Analytics, Start page, Static front page, no sidebar
Winning example: Mr. Tristan Bancks' home page
Two common mistakes to avoid: splash pages and "welcome"
If you want the why behind my tips, here's a 5-minute read.
Why is your home page important?
Don't let my subtitle mislead you. Your home page will likely get more visits than any other page. So you need to make the most of that traffic.
This is because website visitors start their relationship with you in broad terms. Searchers look in Google, and (ideally) your home page will be the first link. When visitors come from search, it's called 'organic' traffic.
Another way visitors arrive at your site is through 'referral' traffic. This is when they've clicked a link to your website, on another website. Most likely, the link will be to the home page.
Most of these visitors are seeing your site for the first time. It's vital they truly understand your brand and your work.
One clear focus
Filling your home page with lots of text used to be encouraged. But this was back in the day when one of Google's primary ranking signals was keywords and links.
Google and Bing have become more sophisticated. They now understand what your whole site is about, not just the home page.
"I want to find what I'm looking for, and I want to find it quickly", is now the sentiment of your website's visitors. If they don't know what they're looking for, they're probably not going to stick around long to find out.
5 Home page principles
Don't cram everything into your home page.
The home page no longer needs to be a comprehensive overview of your whole website.
Make your main menu clear and consistent, and your major sections will be easily found.
Keep in mind, visitors don't always enter your site via the home page. If a visitor comes from social media, they'll be going straight to a linked blog post or book page. Bypassing your home page altogether.
Look at your most important visitors and focus on helping them get what they want.
Once you've answered this your focus will fall into place.
So, what should be on your home page?
Beginner tips
If you manage your website with a free template, you're limited in what you can customise. Let's focus on content enhancements.
1. Author photo
Help people know they're in the right place. For new fans, your photo is a strong trust signal. Build your brand.
2. Latest book
Chances are, new visitors are looking for your latest work. Put your latest book front and centre. Show the full cover. Using a 3D mockup makes it look like a real product – something desirable.
3. Email list subscription
Growing your email list is a rock-solid long-term marketing strategy. It doesn't have to be a newsletter/curated type list – it could be a blog post notification. Even capturing the email and not sending anything is fine. MailPoet is a quick and simple WordPress plugin to get you going. Intermediate authors, use MailChimp.
4. Other key section
Highlight and link to one other important section of your site. What is your primary audience looking for? What would they want to know after they've 'met' you? Typically this is your bio, a book page, or a news/blog post.
5. Social media links
Not all fans follow authors the same way. If you're using social media as a channel, link to your social profiles. Make your follow request more compelling by highlighting the benefits of following your account. Take it a step further and include a styled feed of your latest tweets like Amanda Ortlepp does on her home page.
6. Call to action
What do you want your visitor to do next? What is the purpose of your home page? It's to drive them to the next step in your funnel.
Intermediate tips
If you're a bit tech-savvy, here are some tips to take you to the next level, without becoming a web designer.
7. Analytics
Install simple, or advanced analytics then look at which pages or blog posts get the most views. This shows you what people are navigating to, or what they're landing on when they come from search or social. Make these pages the next step for your visitor. Surface this juicy content.
8. Start pages
If your blog has been going for a few years, you've developed a nice archive. But some posts will be more popular than others. If someone is new to your blog, list your top 10 most popular posts, books, or reading recommendations as a starting point. Firstly, it's a way to surface older (but popular) content. Secondly, it's like a tour guide in a foreign land.
9. WordPress Front Page
If you use WordPress or similar CMS, create a 'page' – not a feed of your blog posts – and set that as a static 'Front page'. Now you can customise the content and layout of your home page.
10. No sidebar (optional)
A bit contentious, but if we're trying to tighten the focus of the home page, why add a bunch of distracting links? Plus, it's that main content on the left, sidebar on the right layout that gives your site that 'same same' look. Mobile views have no sidebars anyway. No sidebars on my home page (or any other page), is that causing you any problems?
Wait, one more thing: your home page is mobile-friendly right? If not, use this.
Author home page example: Tristan Bancks
If you're looking for an author website with great content, check out Tristan Bancks.
Take note that the experience starts before we even get to his site. Tristan has bought a custom domain name.
Arriving at Tristan's home page, you're met with an approachable author photo and a clear description of his work.
Next the product.
Tristan has many titles to his name, but he focusses on the five books, he knows his audience is looking for.
Showing a recent blog post on the home page is another good idea. It signals that the site has fresh content, a key reason for return visits.
Tristan then features his five most recent posts on his home page, along with a sidebar with a lot of links to connect with him.
If I was to give Tristan a couple of tips?
First would be to make another video for the home page. Just the like killer book trailer on his About page.
Second tip would be to cut the blog feed after the latest post and simplify the sidebar. There are many competing elements in his sidebar.
Tristan's web design skills far surpass my writing skills, so let's leave that there.
Use these following techniques at your own risk!
Splash page. This is a page you see first before continuing to the main site. Usually just a picture with a 'click to enter' link (I just don't see value in these).
"Welcome to my website". As a professional writer, try to think of something more engaging.
Got a home page pet peeve of your own? Or want me to offer some tips on your home page? Hit the comments below.
Want more useful tips to get the most out of your online promotion? Subscribe to my email list.