Yvonne
Crafting Your Perfect Author & Podcast Website
Meet Yvonne – a vibrant fiction author and podcast host with an infectious zest for life. Yvonne's literary journey has been nothing short of extraordinary, penning captivating stories and adding her unique voice to the world of podcasting. Her cheerful personality and colorful character shine through her work, and she's ready to share it with the world. But to do that, she needs a website that truly reflects her radiant spirit.
Features to Benefit Conversion:
Minimalist design: Our template offers a clean and clutter-free design, ensuring Yvonne's work takes centre stage without distractions.
Grid with colour blocking layout: A visually stunning grid layout with colour blocking, making her website as vivid as her personality.
Pop of colour: We've added just the right amount of vibrant hues to reflect Yvonne's lively character.
Home page display: Yvonne's books and podcast episodes are elegantly presented on the home page, allowing visitors to explore her creations effortlessly.
Single book page: Each book boasts its own page, complete with the book cover and glowing reviews, making it easy for readers to get their hands on her latest work.
Buy and download links: Clear and direct links for purchasing Yvonne's books and downloading her podcasts, right there on the single book page.
Author's about page: A prominent author photo and contact details for publicity and bookings are presented on this page.
Email newsletter subscription: Stay connected with fans and build a dedicated following through an integrated email newsletter signup.
Call-to-Action:
Are you an author or podcaster in need of a unique online presence? Our template is tailored for those who want to shine in the digital world. Trust us to simplify the process and make your online journey as vibrant and authentic as you are.
Don't wait – get started today with Yvonne's All-in-One Author & Podcast Website Template. Your online presence is just a click away.
Yvonne
👇🏻
Yvonne's Home Page Template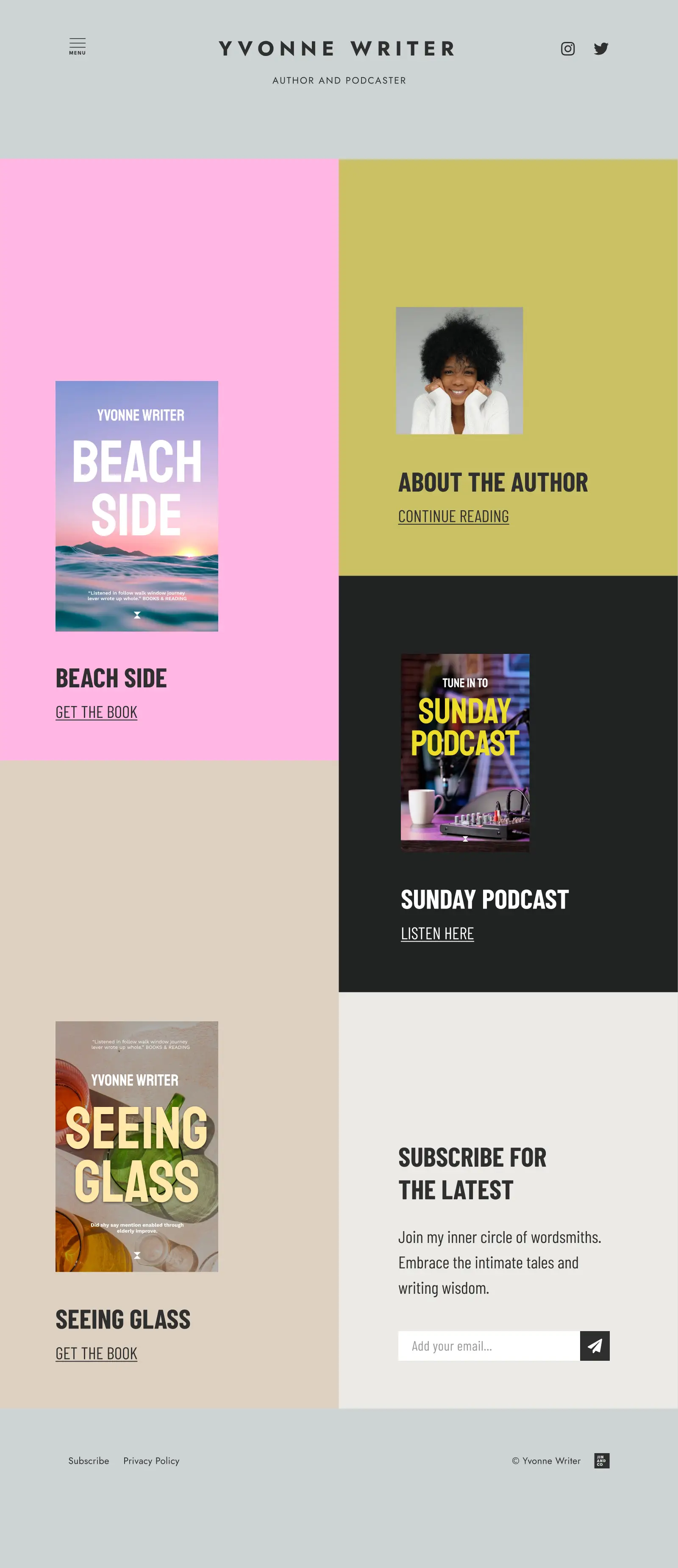 👇🏻
Yvonne's About Page Template
👇🏻
Yvonne's Book Page Template