Oliver
Oliver's Unique Author Website Template
Engaging Introduction:
Say hello to Oliver, a budding author who recently celebrated the release of his debut book. His literary journey has just begun, and he's excited to share his imaginative world with readers. But Oliver has a unique vision; he wants a website that not only showcases his book but also transports visitors to the setting of his story, immersing them in his literary world.
Storytelling:
Oliver's dream is to have a personalised website that captures the essence of his book, such as the majestic mountains that play a central role in his story. He envisions a virtual space that not only promotes his first book but also provides a glimpse into the captivating world he's created.
Feature-to-Benefit Conversion:
Common scenery setting: The website's background is inspired by the book, bringing the fictional world to life and drawing visitors in.
Prominent book cover: Oliver's book cover, complete with an introductory blurb, immediately captures the attention of visitors on the home page.
Clear buy and download links: Direct links for purchasing Oliver's book and downloading it are easily accessible on the single book page.
Author biography: A concise yet impactful author biography accompanies the book, enabling readers to connect with Oliver on a personal level.
Real-time Instagram feed: Keep your audience engaged with live updates from Oliver's Instagram.
Email newsletter subscription: Stay connected with fans and build a dedicated following through integrated email newsletter sign-up.
About page: A striking author photo alongside a detailed biography is the centerpiece of this page, offering visitors a deeper understanding of Oliver.
Contact details: Publicity and booking information are readily available on the About page, making it easy for interested parties to get in touch.
Dedicated blog page: A dedicated space for Oliver's musings, giving readers an insight into his thoughts and creative process.
Call-to-Action:
For budding authors like Oliver who are embarking on their writing journey, our website template offers more than just a digital presence – it's a reflection of your unique style and story. With flexible designs, you can craft your online space just the way you envision it. Dive in today and let's bring your literary world to life. Your exclusive online presence is just a click away.
Oliver
👇🏻
Oliver's Home Page Template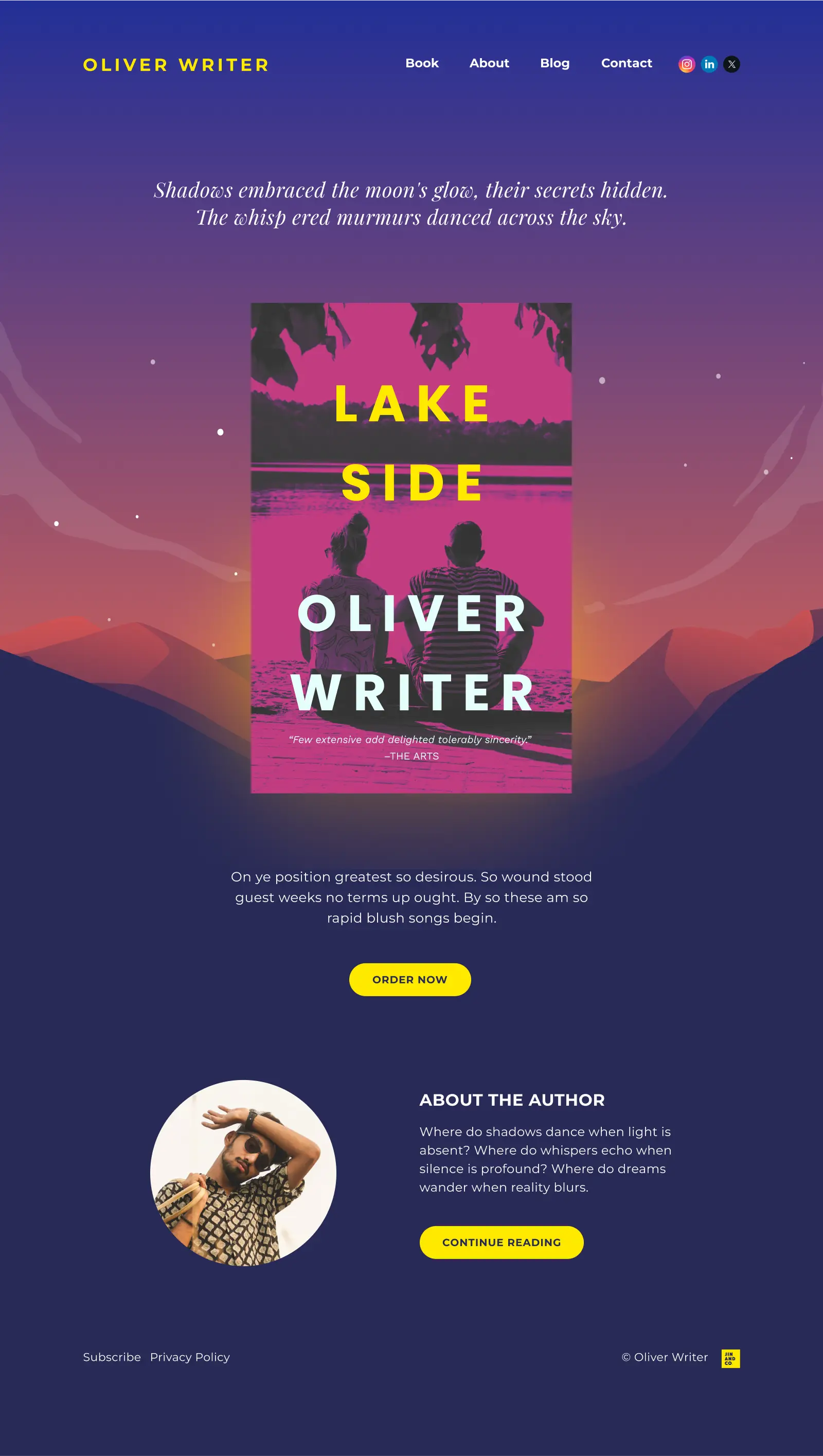 👇🏻
Oliver's About Page Template
👇🏻
Oliver's Book Page Template
👇🏻
Oliver's Blog Page Template
👇🏻
Oliver's Blog Single Page Template