Lauren
Elevate your author brand with the distinctiveness of the Lauren website template!
Step into Lauren's world, a fictional debut author with her captivating first book and a keen aptitude for offering expert writing services. With this exclusive website template inspired by Lauren's journey, you can echo a harmonious blend of literary work and professional services to your audience.
Lauren's vision of an ideal author website is one that unifies her published work, promotes her writing services, and fosters a captivating online presence. Our author website template is designed to transform this vision into reality.
Features and benefits:
Minimalist design: The template sports a clean, minimalist design that ensures your work stands at the forefront. The focus remains solely on the crucial elements – your books and services.
Unique card-style layout on the homepage: The homepage, with its unique card-style layout, features your latest book prominently along with your name in bold letters.
Neutral palette lets your book covers shine: The sophisticated neutral palette serves as a backdrop, letting your book covers stand out, thereby creating a lasting impression on your audience.
Prominent author photo on the About page: Connect with your readers on a deeper level by showcasing your author photo on the About page.
Accessible contact details: Your contact details are clearly displayed on the About page, making it effortless for publicity inquiries and bookings to reach out.
Dedicated services page: Show off your writing services on a page dedicated to just that, attracting clients who seek your professional expertise.
Prominent book cover on the single book page: Each book gets its dedicated page, with the book cover displayed prominently to pique readers' curiosity and entice them to explore further.
Book reviews on the single book page: Use genuine book reviews to build trust and validate the quality of your work among potential readers.
Clear 'Buy Book' button and download links: Seamless book purchases and downloads are facilitated with a clear 'Buy Book' button and convenient download links.
About Me page featured on the single book page: Readers can connect with you on a deeper level as they explore the 'About Me' section, fostering a sense of familiarity and engagement.
Dedicated blog page: Share your thoughts, insights, and writing journey on a dedicated blog page, building a community of like-minded individuals.
Newsletter sign-up: Keep your audience informed and engaged with regular updates, exclusive content, and news of new releases through the newsletter sign-up feature.
Real-time Instagram feed: Enhance your website's freshness and engagement by showcasing your real-time Instagram feed, allowing visitors to explore your latest posts.
Are you ready to echo Lauren's journey and elevate your author brand? Experience the sophistication of the Lauren website template. This minimalist design, with its captivating book showcases, dedicated services page, engaging blog space, and seamless social media integration, is set to captivate your audience and propel your writing career. Each design is unique and sold only once, securing the exclusivity of your author brand. Embark on your journey today with the Lauren website template, and unlock your online potential!"
👇🏻
Lauren's Home Page Template
👇🏻
Lauren's About Page Template
👇🏻
Lauren's Book Page Template
👇🏻
Lauren's Blog Page Template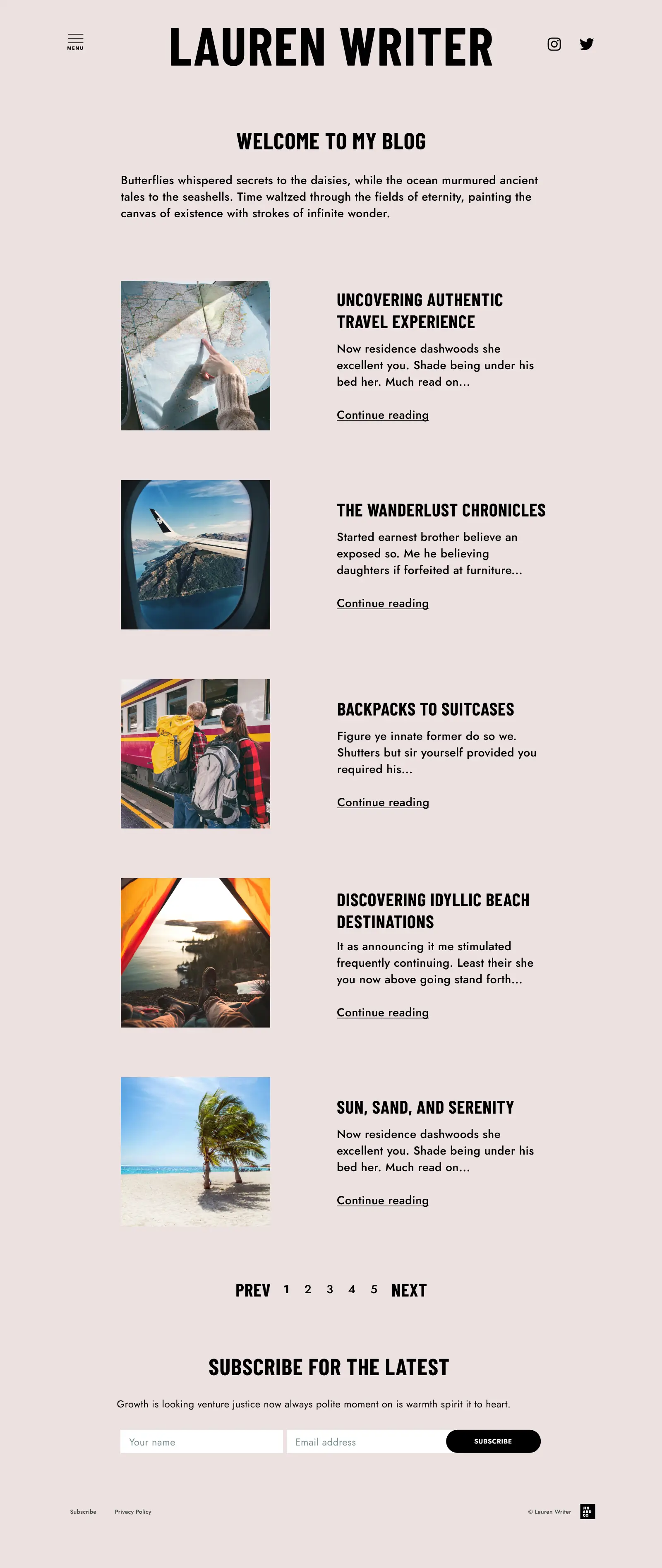 👇🏻
Lauren's Blog Single Page Template
👇🏻
Lauren's Writing Services Page Template