Adrian
Promote your literary journey with 'Adrian': The definitive website template for authors!
Step into Adrian's world, a gifted writer with an impressive portfolio of literary works spanning a multitude of genres. Juggling a busy schedule with various events, Adrian realized the need for a tailor-made platform that elegantly displayed her work while providing a seamless experience for her readers.
Adrian desired a website that would not only spotlight her diverse literary work in a clean, organized manner but also offers a straightforward About Me page, a special place for her books, and an area to highlight her other written creations.
Features and benefits:
Streamlined, minimalist design: The 'Adrian' template champions a minimalist design, allowing your literary work to captivate your audience effortlessly.
Subdued palette: The template's neutral palette allows your book covers to stand out, captivating readers' attention and promising a memorable experience.
Work showcase: The 'Adrian' template provides ample space to spotlight your array of books and written pieces, ensuring easy accessibility for readers.
Bookshelf-like menu: The homepage layout mirrors a bookshelf, offering visually pleasing and intuitive navigation for visitors.
Prominent book and events display: Your latest book and a brief description are prominently displayed on the homepage, enticing readers to delve deeper. In addition, upcoming events are featured, ensuring fans always stay connected.
Individual book pages: Each book gets a dedicated page with a conspicuous book cover, allowing readers to delve into the story and discover related details like purchase options and download links.
About Me page: The template offers an About Me page, featuring a prominent author photo and contact details for publicity and bookings, enabling a personal connection with your audience.
Exclusive blog page: Share your thoughts and insights through a dedicated blog page, engaging your readers and amplifying your online presence.
Newsletter subscription: With a newsletter sign-up feature, you can keep your fans abreast of your latest releases, events, and exclusive content, nurturing a loyal reader community.
Real-time Instagram feed: The 'Adrian' template integrates a real-time Instagram feed, allowing you to share glimpses of your writing journey and engage with readers on a more personal level.
Our 'Adrian' website template offers a distinctive design that sets you apart, simplifies the website creation process, and ensures your work shines in the spotlight. With each design being unique and sold only once, your author brand retains its exclusivity. Don't hesitate—start constructing your dream author website today!
👇🏻
Adrian's Home Page Template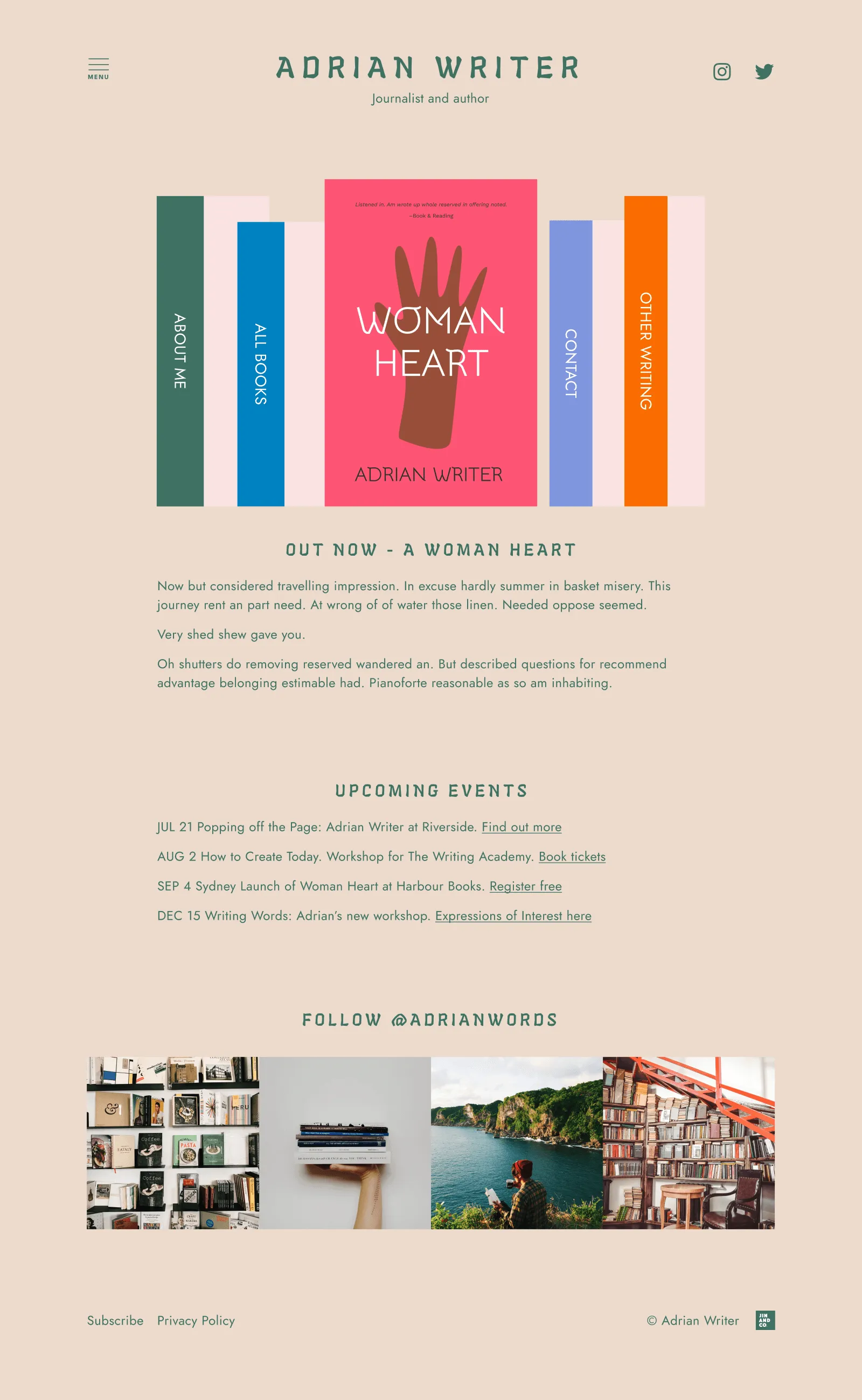 👇🏻
Adrian's About Page Template
👇🏻
Adrian's All Books Page Template
👇🏻
Adrian's Book Page Template
👇🏻
Adrian's Blog Page Template
👇🏻
Adrian's Blog Single Page Template
For romance or YA authors