12 Tips to get your book to the top of Google
Last updated 10 November 2023
Written by Jin Wang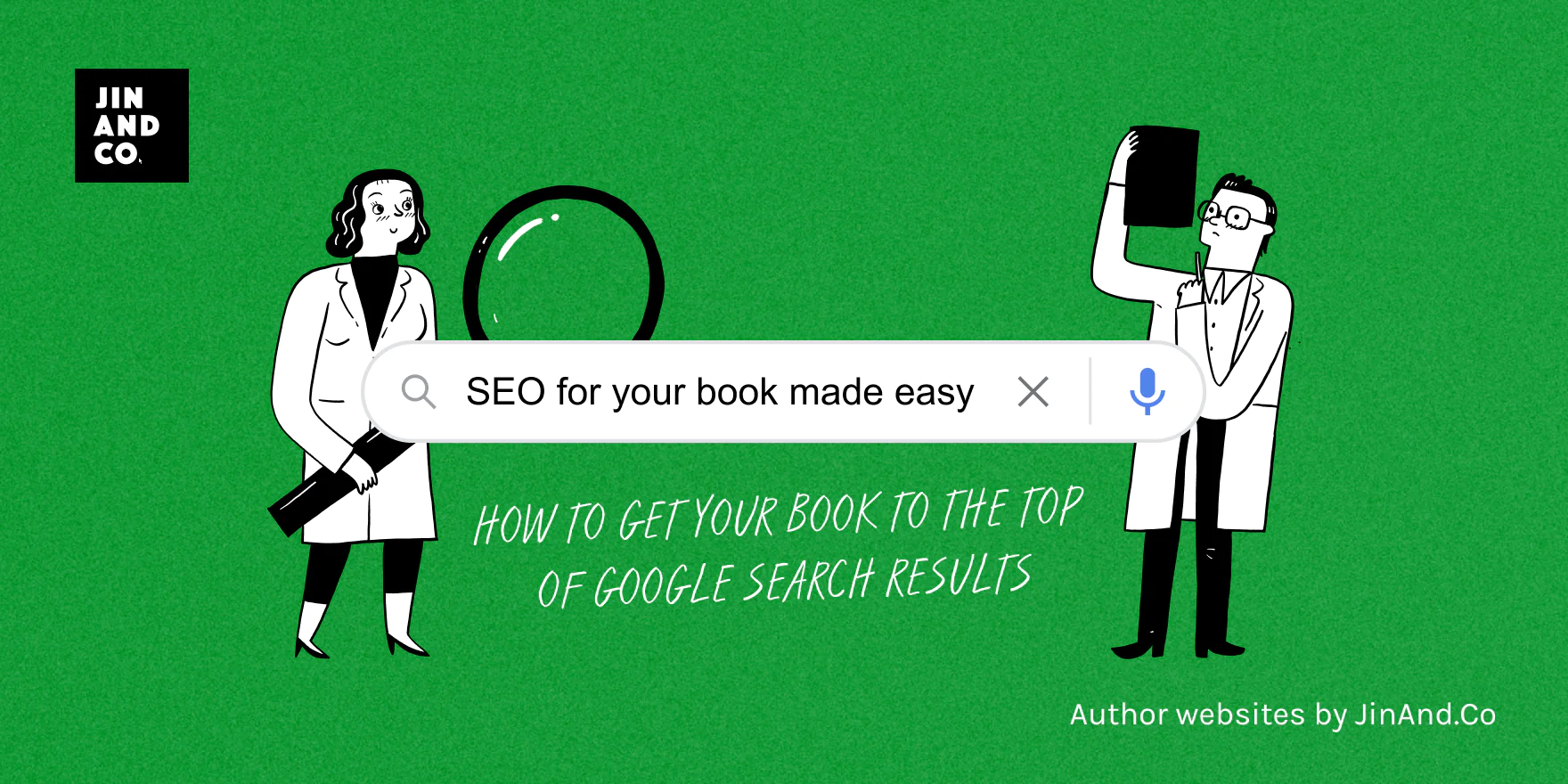 Boosting your book's ranking in Google may not be as hard as you think. Here's our plain English guide to SEO and how to do it.
SEO. How can only three letters be so complicated?
Maybe because it reminds you of important marketing you don't understand or how to start. Or worse, something you do understand as important but hate doing!
We all know that you can have the most beautiful website on the web, but if no one can find it, it's all for naught.
But hey, you're a writer! Writing is your bag, and SEO is all about writing, so all you need is a bit of guidance.
Today, I'm here to break down what SEO is for your book and how to do it.
Want to download this article to read later?
Table of contents
Google's Ranking Factors
There may be over 200 factors that determine your ranking in Google, but if you just focus on these 10 most important questions, you'll get to page one in no time.
10 key ranking factors to make sure your book page turns up at the top of Google search results
Content quality – How thorough, useful, and well-structured is your page?
Unique – Is your page different or more complete than other pages on the web for your book?
Crawlable – How well is the code formatted so Google can index and understand it?
Mobile Optimised – How does your site look and function on a mobile? And how fast?
The number of backlinks – How many reputable websites link to your book page?
Domain Authority – Does Google see your book page as an authority on the subject?
Keywords – What search phrase do you want your book to be found for in Google?
RankBrain – Did you know Google uses AI (Artificial Intelligence) to figure out what a searcher wants?
Search Intent match – Does your page completely deliver what your reader is looking for?
Up-to-date – Is your content fresh?
Let's look at how we can apply the 10 factors above to create the ideal book page.
Where a reader's journey starts
A reader learns of your book and heads to Google to check it out. They're most likely to type in your book title and your name. Keep this in mind because this is your primary keyword.

Page title
The first thing they'll notice is the page title.

Google will try to match your reader's 'search intent' as closely as possible. Making your page title match the primary keyword will increase your ranking.
With over 4 billion web pages, the web is a competitive place!
There could be thousands of websites competing for your primary keyword (your book title). Plus, you're competing with the likes of Amazon, other major booksellers, your publisher's website, department stores, Goodreads, other review blogs, and newspaper afrticles.
What search phrase do you want your book to be found for in Google? I recommend:
[book title] [book series] by [your name]
Tip: Make your title 55 characters or less, to ensure it fits without being chopped off.
Description
If the page title doesn't give your reader enough bait to click, they may look to the description to get a better sense of the destination.

Keep your description to around 150 characters. Write an enticing summary to convince your reader this is the page for them. Google may also rewrite your description if it thinks it can find a better summary.
Tip: Go beyond just your blurb. We like to include details like 'official website', your publisher, your genre, or even the year published.
URL formatting
The last element of your page in a Google search result is your page's URL.
A clear URL structure will show both your reader and Google a snapshot of what your page is about and how it fits more broadly in your website.
Most of the time you'll set this in your website's settings once-off. For example, WordPress' URL settings are in Permalinks.
Tip: use yourdomain.com/book/your-book-title
Bonus: If your site is built with WordPress, a plugin I recommend is Yoast SEO.
Use this plugin to easily see and edit your title, description and slug (the last bit of your URL).
It even gives you a preview of how it'll in Google for both mobile and desktop.
Book cover
Your book cover is obviously a fundamental part of the page. But it's not just as simple as uploading your image and calling it a day.
Optimise your image by adding your keywords to the file name of the image. The format I like to use is your-book-title-your-name-cover.jpg
When you add your cover, make sure to give a descriptive ALT tag. Keep it simple with your book title and your name.
Example: R.W.R. McDonald's book page for The Nancys
Lastly, make sure it's the right size. There are two points to consider here:
Image dimensions – Generally, your cover doesn't need to be more than 1024 pixels wide.
Image file size – Once you've scaled it down on your computer, to shrink the file size, run it through this handy tool TinyPNG: tinypng.com
An image with a well-optimised filename, alt tag and file size increases the probability of your book also being found in Google Image Search.
An image with a well-optimised file size will ensure your page loads as fast as possible.
Tip: Use TinyPNG to compress the file size of your images
Reviews
Have you received praise for your book? Adding reviews boosts your book page SEO on so many levels.
Firstly, you can use the phenomenon of social proof as a marketing tactic to ease the minds of people looking to purchase your book.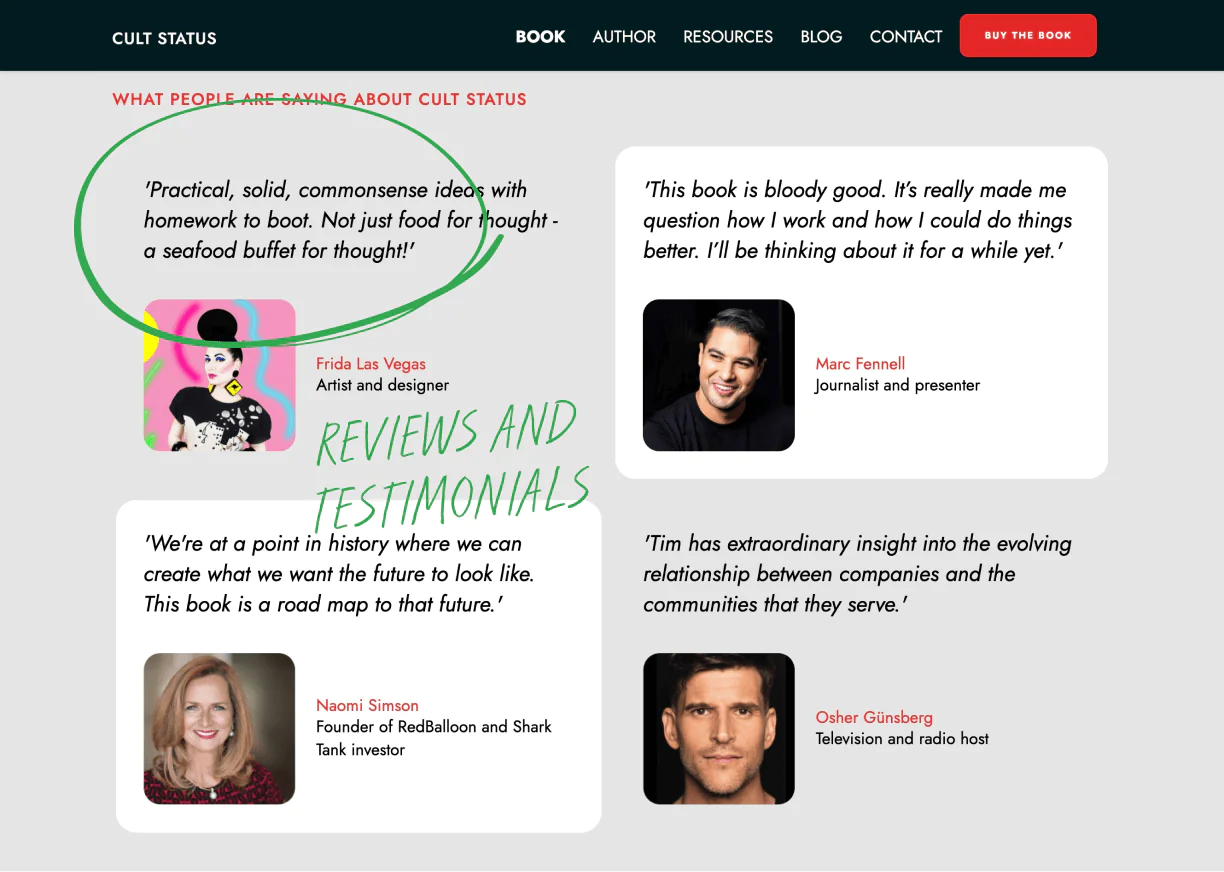 Example: Tim Duggan's testimonials for Cult Status
Secondly, we can leverage reviews that are published on other websites.
A book review posted on another website is a perfect chance to get a backlink.
The web is a big popularity contest and a link from one website to another is a vote of confidence and a major ranking factor signal for Google. The more reputable the linking site the more powerful the vote. In SEO speak, this is called 'link juice'.
For your book page to rank well, you need as many links to your page as possible from websites that already rank highly in Google themselves.
One of our top 10 SEO factors is 'Domain Authority'. This describes a website's relevance for a specific topic on the web.
A link to your book page from a reputable website, ideally a literary website, will help your page rank higher.
All of these links work to boost your Domain Authority.
Do a search for your book on Google. Look at the websites that appear on page one. Do you know any of these people?
Say one is a review of your book from a book blogger. Reach out to the blogger and ask them to add a link to your book page on their review page.
Tip: Ideally, have them make the 'anchor text', the words in their link, and the title of your book (your primary keyword). This is a more specific and powerful signal to Google.
Purchase links
Got your book listed at major booksellers? Add purchase links or buy buttons to your page to help browsers become buyers.
Not strictly a ranking factor, but Google does look at the time people spend and engage with the page to determine its relevance to their search intent.
Want to support local bookshops? Add 'Find your local bookshop' as an option and link to the Australian Booksellers Association bookseller finder.
Example: Dervla McTiernan's 'Find a bookshop near you'.
Remember, we're trying to make your book page the most complete and comprehensive source on the web.
Tip: Don't send valuable visitors away from your site. Make book purchase links and buttons, open in a new tab!
Related read: Using Affiliate Marketing and Booktopia to sell your books
Book blurb
Have you ever searched for something, clicked the first page in the results, but found it wasn't quite what you were looking for and hopped back to the search results? This is called 'pogo sticking'. A sign that the search intent wasn't satisfied.
Google is continually downgrading factors such as keywords and links because they can be artificially gamed. They're striving for a more natural approach: "Does this page give the searcher what they're looking for?"
Go further than just pasting in the standard book blurb.
Catch of the Decade tells the extraordinary story of Gabby and Hezi Leibovich, two who revolutionised industries and founded iconic businesses like Catch.com.au, Menulog, Scoopon and Luxury Escapes.
Gabby and Hezi use their valuable book page real estate to summarise the benefits of reading his business book:
Who should read his book? We highlighted 8 key professional profiles that would benefit from the Leibovich brothers' entrepreneurial insights.
Who likes behind the scenes photos? We included a few personal snaps from Gabby and Hezi's time building and running Catch.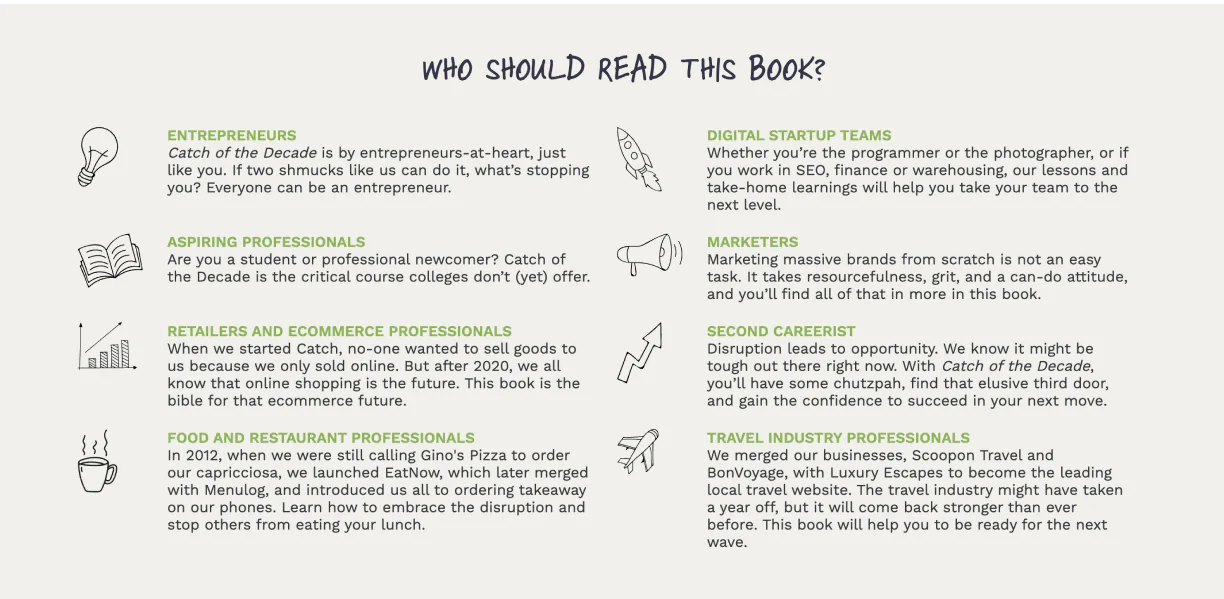 Example – Business: Catch of the Decade Who Should Read'
Belinda Murrell is an award-winning children's author of over 35 books. The additional content on her book pages allows kids and adults alike to dig deeper into her books.
Belinda makes available:
Downloadable PDF chapter extracts
Teachers' Notes for class activities
Shares her inspiration behind the stories
Even a sound clip of a chapter reading
Example – Children's: Belinda Murrell's extras
Do you sell merchandise from your book? Make sure to link to your products from your book page.
Tip: Don't forget to list any awards you've won. You've earned it!
Videos
Using videos to promote your book is an effective medium for readers to get to know you. Plus, from an SEO perspective, it keeps readers engaged with your book page for longer.
Nowadays, people search for information in more ways than traditional text-based searches. Don't sleep on video as a marketing channel and a potential source of traffic for your book.
Here are a few suggestions for videos to go on your book page:
The rise of events being moved online has the upside in that you can live stream or record your events and share them with others that weren't able to attend.
Steven Feldstein introduces his book The Rise of Digital Repression
Lynette Noni introduces her upcoming new book
Nathan Luff's The Nerd Herd book trailer
Belinda Murrell's The Golden Tower
Tip: Don't forget those keywords! Add them to your video's description for added benefit.
Internal site links
Your book page may be the landing page of your website. Meaning the first page a person sees on your site may not be your Home page. They may arrive on your book page directly from a Google search or from another website.
Google doesn't want to send your reader to an out-of-date website. In fact, they actually look for updates to your page as time goes by to determine its freshness.
This is where we can include snippets of and links to time-sensitive news articles, events or blog articles related to your book.
Make your book page the most up-to-date and comprehensive gateway of information on the web for your book.
Kaz Cooke's book, Up the Duff, is Australia's top-selling, most respected pregnancy book. A wealth of knowledge.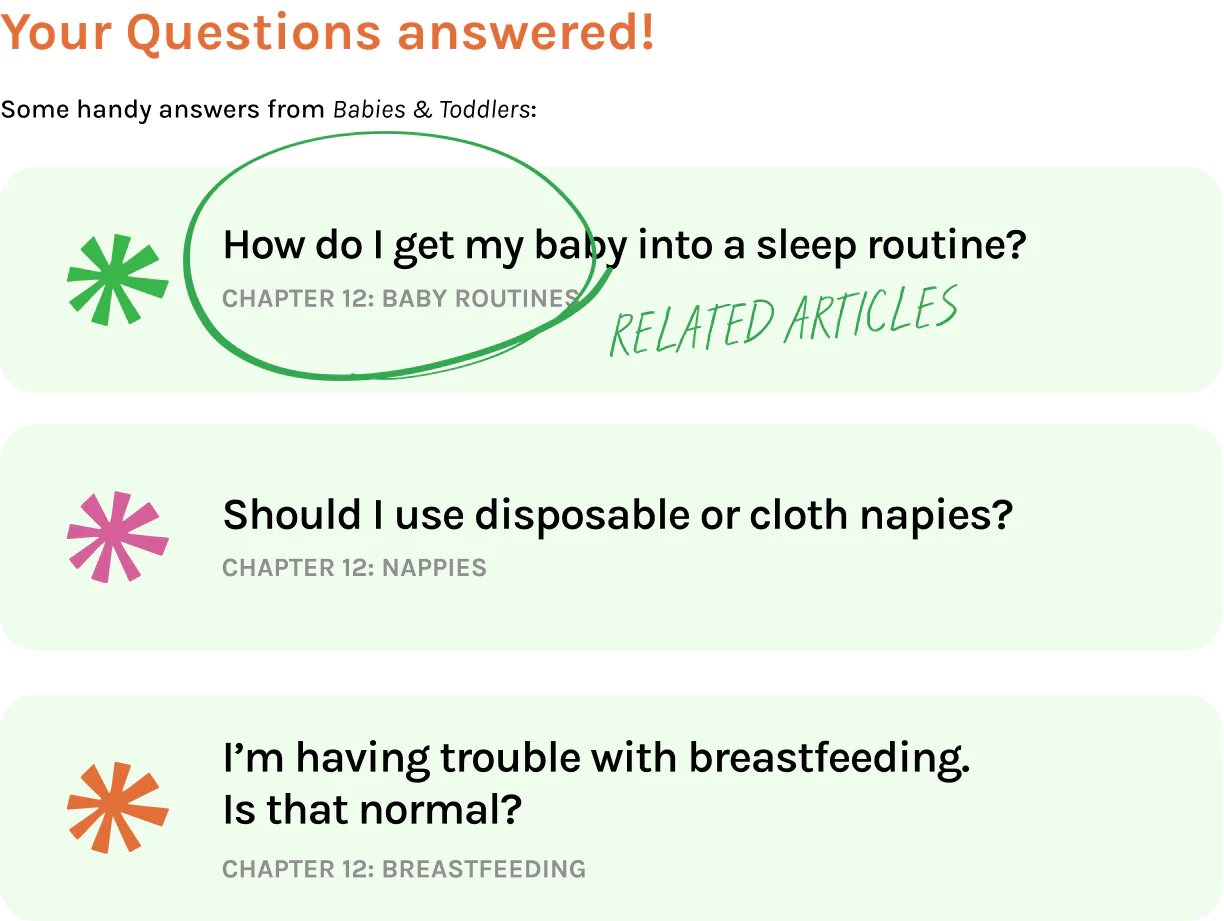 Example: Kaz Cooke 'your questions answered!'
We extracted popular topics and FAQs from her book and published them as stand-alone articles on her book page.
Mobile-friendly
Are you reading this article on a mobile or tablet?
Websites are no longer only accessed by desktop computers. Just think of your own internet consumption.
Google says, "Mobile pages that provide a poor searcher experience can be demoted in rankings or displayed with a warning in mobile search results."
Making your website 'responsive' or mobile-friendly is no longer just nice to have – it's essential. Any good designer/developer will know this and your site will already be optimised for mobile – right?
Find out how mobile-friendly Google thinks your site is.
Google's Mobile-Friendly Test measures how easily people can access, read, and navigate your site on mobile devices. It provides an actionable pass-fail score with suggestions for how to improve.
Tip: Take Google's Mobile-Friendly Test here
Summary of how to SEO an author book page
Your book title and your name are your primary keywords. Make your page title fit in under 55 characters
Add a compelling description for your book page to make people click
Keep your URL short with only your book title
Add your keywords to your images and make sure the file size is compressed for fast loading
Leverage your book reviews to get valuable backlinks to your book page
Give your readers a complete and comprehensive page with book purchase links
Go beyond your blurb by adding chapter samples, activity downloads, sound clips, and inspiration
Video will keep your readers engaged and staying longer on your site while building trust
Keep your page fresh with links to recent news and events
Be the most comprehensive page on the web for your book
Get a ranking boost while accommodating for your readers on any device by making your author website mobile-friendly
😅 Phew, we did it!
We completely optimised your book page for search engines like Google, so your readers can find your book online.
Know someone that might like this article? I'd love you to share it!
Want to download this article to read later?