How Successful Authors and Illustrators use Patreon Crowdfunding as a source of income
Last updated 08 June 2023
Written by Jin Wang
If you're an author or illustrator on the web, you may have seen some of your colleagues advertise their Patreon as a means of financial support for their work.
As most authors still struggle when it comes to selling their work, and many illustrators find themselves working freelance, Patreon, in theory, represents a great source of alternative income.
But if you're reading this article, you're probably still unsure about whether Patreon is right for you, or unsure about exactly how it works.
Let me try to answer these questions by looking at which successful authors and illustrators are using Patreon, and what they're doing, so you can make an informed decision about whether or not to use Patreon, and if you do decide to use it, what the best practices are in launching your own.
Want my 11 Patreon reward ideas for authors and illustrators?
Table of contents
But first, what is Patreon?
Patreon can be seen as targeting two broad groups of individuals operating online: content creators, like authors and illustrators, and 'Patrons': those choosing to support content creators.
For content creators, Patreon is advertised as a way to 'make a living' for creating the things you are already creating, through 'patrons' who elect to pay a small amount (usually between $1-$5) every time you release new content.
For patrons, this represents a way to directly support their favourite creators without the mediation of a third party, like a publisher.
Creators also give 'rewards' to patrons, based on the level of their donation (more on this later), not only as thanks but to create meaningful engagement with a dedicated audience willing to show patronage.
The underlying philosophy is this: If you're willing to give a few bucks to street performers, why should an 'online' barrier prevent you from doing the same for valuable work created on the web?
More broadly, Patreon represents an attitude shift online that seeks to generate recognition for the value of new media: that is, 'traditional' types of content created for the web. Authors 'traditionally' wrote books now also write blog posts and post their short stories via email newsletter, and illustrators 'traditionally' drawing with pen and paper now also post images and drafts of their work on Instagram and Twitter.
Again, this sounds great for authors and illustrators. But before you open a new tab and jump to Patreon's sign-up page, you should first think about whether Patreon is the right platform for what you're currently doing as an author or illustrator.
Is Patreon Right for Me?
The first thing to understand about Patreon is that
it is a specific service for creators at a specific stage of their career, and
it is used by creators who can produce a specific type of content
This limits the type of creators who should be using Patreon.
Patreon should not be seen as a tool to build a new online following, it is a tool to generate benefits from an existing online following.
A specific service for creators at a specific stage of their career
Patreon creators, before they decide to use Patreon, usually already have an established online following. Unlike other social media platforms, Patreon should not be seen as a tool to build a new online following, it is a tool to generate benefits from an existing online following.
Even though there may be an attitude shift online about rewarding online creators, the reality is that a certain amount of legwork must still be done before it becomes acceptable to ask a reader to pay you, on a recurrent basis, for work that you produce. The conventions and acceptability of doing so differ from that of selling a book 'once-off' to a stranger at the bookstore. An established author persona, one a reader can engage with as a 'fan', should be established before you start using Patreon.
Patreon is for authors and illustrators who have an existing fan base, and who have the resources, time, and motivation to produce web-based content on a recurrent basis.
Creators who produce a specific type of content
Creators on Patreon usually produce content that can be shared on the web, on a frequent and recurrent basis. This category of content can still be quite broad, including anything from Podcasts to YouTube videos, however, it does restrict the type of content authors and illustrators should produce for their "patrons".
For authors on Patreon, you're looking to get paid for content such as short stories, novellas, and blog posts that can be shared through your website or email newsletter.
For illustrators, you're looking to produce content such as artwork or tutorials which can be shared on social media platforms like Instagram or YouTube.
Traditional types of content such as full-length novels and picture books, which are long-term projects, don't fit well into the Patreon model. If you're an author or illustrator who's used to long-term projects and want to use Patreon, you may need to revise your work schedule to accommodate producing smaller, web-based content on a daily, monthly, or bi-annual basis, on top of your novels and picture books.
In sum, Patreon is for authors and illustrators who have an existing fan base, and who have the resources, time, and motivation to produce web-based content on a recurrent basis.
Which authors use Patreon?
On Patreon, authors tend to be those who write science fiction and fantasy, like Seanan McGuire, N. K. Jemisin, Kameron Hurley, Stant Litore.
(Click the pic to go to these authors' Patreons)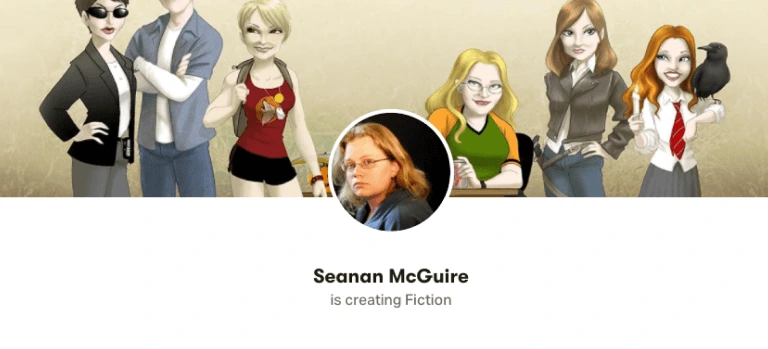 Seanan Mcguire is the author of the October Daye series, the InCryptid series, and more. She started her Patreon to help her "buy a toaster".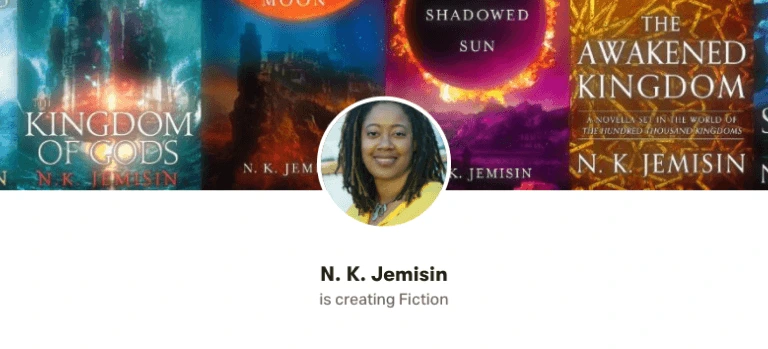 N.K. Jemisin is the Hugo Award-winning author of the Broken Earth series. She started her Patreon with the goal of becoming a full-time writer. As of the start of July 2018, she's quit her day job to fulfil this goal.
Kameron Hurley is the author of the sci-fi novel The Stars are Legion, the God's War trilogy, and much more. She runs her Patreon with the goal of producing more writing, and eventually writing full time.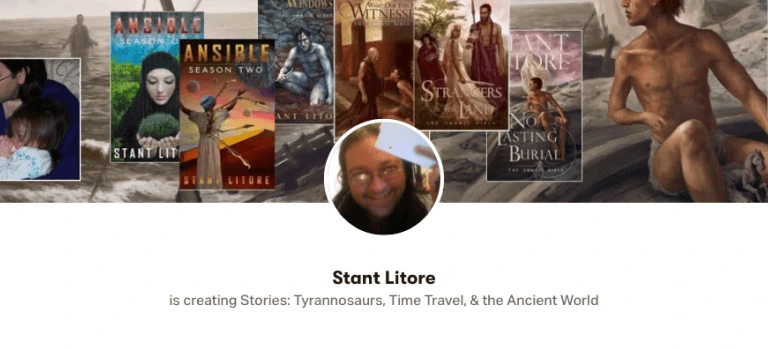 Stant Litore is the author of The Running of the Tyrannosaurs and The Zombie Bible series. His goal on Patreon is to get 1000 Patrons so he can write full-time.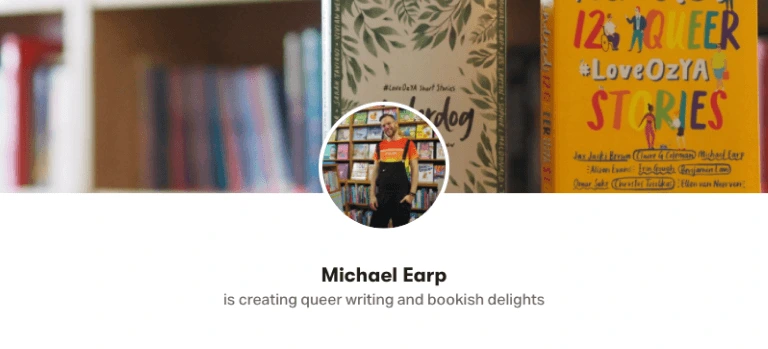 Michael Earp is a writer and editor of Kindred: 12 Queer #LoveOzYA Stories. He has nearly 20 years of book industry experience and brings together his writing and bookselling to offer a balanced behind-the-scenes of his writing and the industry. He started his Patreon to balance his own work.
It's easy to see why the Patreon model fits authors of this kind. Sci-fi and fantasy authors tend to be prolific writers, so writing on a recurrent basis isn't as much of a hurdle as for slower writers. Also, sci-fi and fantasy work often produce rich worlds a great number of readers can easily get invested in. Search online forums about any successful sci-fi/fantasy series, and you'll find large and thriving communities of fan fiction, fan theories/speculation, and book clubs. The sci-fi/fantasy readers who make up these communities will jump at the opportunity to get more content out of their favourite authors.
That's not to say that if you aren't a sci-fi/fantasy author, you can't, or shouldn't use Patreon. Generally, if you have an existing fan base, with the resources to produce web-based content on a frequent and recurrent basis, you'll find a way to make Patreon work for you.
Which illustrators use Patreon?
If you browse through the most successful creators on Patreon's 'drawing & painting' category, you'll find illustrators and visual creators of all stripes and colours. Unlike Patreon authors, who tend toward writers of sci-fi/fantasy, it's difficult to group Patreon's illustrators into a single category. You'll find freelance illustrators like Kathleen Jennings and Fran Meneses seeking patronage for their personal projects, pastel painters like Karen Margulis and movie-studio animation illustrators like Ty Carter, both of whom create art tutorials. For illustrators looking to use Patreon, the horizon is wide open.
(Click the pic to go to the illustrator/artists' Patreon)
Kathleen Jennings is an illustrator working out of Brisbane, Australia. Among many other things, she produces a monthly illustrated calendar page funded by her Patrons.
Fran Meneses is a freelance illustrator living in Hastings, UK. Fran frequently updates her social media pages with vlogs, tutorials, and scans of artworks.
Karen Margulis is a pastel painter based in Atlanta, USA. She uses her Patreon to fund her painting lessons and instructions, which include 'videos, demos, paint-alongs, and hand outs'.
Ty Carter is an American visual development artist for feature animation working at Blue Sky Studios/20th Century Fox. Ty uses Patreon to offer tutorials and mentorship to fans.
How it works
How exactly does Patreon work?
The core feature of Patreon involves content creators advertising their content, and requesting monetary 'pledges' from 'patrons' to support its creation, on a 'per creation' or 'per month' basis. For example, if you're an author writing short stories, you might ask for a monetary pledge every time you release a new short story ('per creation'). Alternatively, if you're an illustrator who frequently produces visual art, and doesn't want to charge Patrons every time you do so, you might find asking for monthly pledges more suitable.
Creators also typically provide membership benefits for patrons, depending on the specific amount they'd paid. For example, you might offer exclusive short stories for patrons who pledge $1 or more per creation/month, and more 'high-value' content like drafts for your novel for patrons who pledge more.
Creators can also optionally set 'goals', which are funding targets for the monetary amount they'd like to achieve per creation/month. Creators will typically specify how the revenue will be used once those goals are hit.
One last thing to mention is that whilst Patreon is free to use, once you start getting monetary pledges from Patrons, Patreon takes 5% of that pledge to run their business, and an additional transaction fee, which, on average, is another 5%.
Want my 11 Patreon reward ideas for authors and illustrators?
Closing thoughts
As you've hopefully come to understand from this article, Patreon is a very specific service for specific authors and illustrators.
On top of that, it's not easy work. However, authors and illustrators who have a pre-existing audience, and the time, resources, and motivation to build a Patreon, will find it highly rewarding, not only as an alternative source of income but because it's a great way to build relationships and engagement with their readers and biggest fans. words