Get found in Google, Facebook & Twitter with Meta Tags
Last updated 01 June 2023
Written by Jin Wang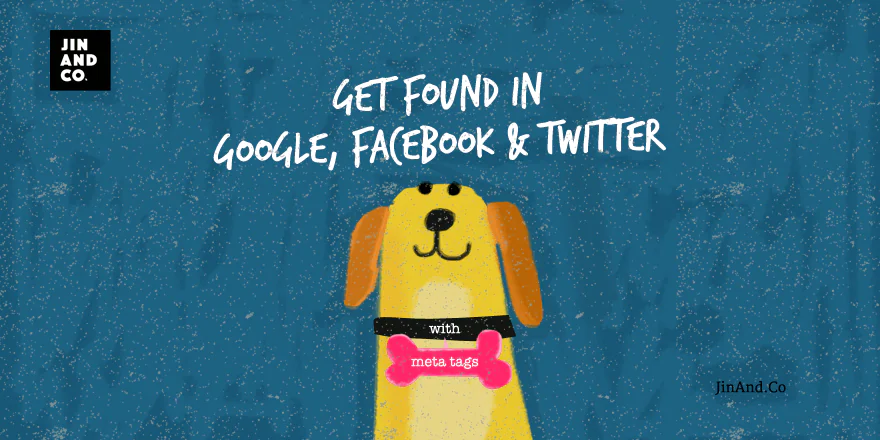 Using Meta Tags on your website makes your blog posts look better when shared on social media and in Google search results.
If you're working hard at blogging to get attention for your author platform, it's all a waste of time if you're not getting found.
When your website appears in Google search results, or when a Facebook post appears in a feed, it's called an 'impression'. You want to make more than an impression though. You want that reader to 'click-through' to your blog post.
'Meta Tags' are hidden elements of a web page, that pass additional data to Google, Social media networks, and web browsers. These invisible helpers have a huge affect on both impressions and click-through rates.
Say if I shared my author website statistics article on Facebook. Here's what it looks like when you paste the in the link into Facebook.
What you're seeing here has nothing to do with author website statistics. It's showing a generic title, description, and unrelated image. Not only is this not compelling, it's confusing.
After optimising my article with Meta tags, here's what it looks like.
You can see my article's title, description, featured image, and my name as the author. Much more compelling.
For SEO and social media beginners, 'optimisation' sounds complicated. So here are the most important tags, what they do, and best practices.
Let's start with optimising for Google. I'll do a quick Google search for "author website statistics".
Here's my result in Google. Let's break it down.
Title tag
Although you can't see the Title tag on your web page, this element is one of the most important.
Often the Title tag is based on your post's title. If you create a new post titled, "Should I get an agent for my book?", your blog software will use this as the Title tag.
You want natural headlines for people. But you first need satisfy the machines to get found.
Focus on a primary keyword for each page or post.
When we say keyword, it really means phrase. For example, for an article on the PROs and CONs of getting an agent, your keyword may be 'literary agent'.
Optimal Format
Primary Keyword – Secondary Keyword | Brand Name
Aim to get your keywords as close to the beginning of the title as possible.
Starting with the keyword: "Literary agents, do you need one to get published?"
Ending with the keyword: "To get my book published, do I need a literary agent?"
Optimal length
Although there is no limit to the length of a title, if you keep your titles under 55 characters, it won't be truncated in a Google search or social share.
Using my second example, my keyword gets chopped off: "To get my book published, do I really need a literar…". Not an appealing title.
Meta Description tag
Meta description tags, don't affect your Google rank. But they influence click-through rates in Google and social media shares.
Optimal format
Make the Meta description a compelling excerpt that a Googler wants to click. It should explain exactly what the page or link is about and whether it contains the information the Googler interested in.
Optimal Length
No character limit, but should optimally be roughly 155 characters to avoid truncation.
So far I've covered optimising for Google. Next up, getting click-through traffic from social media.
Scrubbing up for social sharing
When people share your content on social media how does it look? What can we do to make it as engaging as possible in the blink of an eye, and in a sea of other posts?
Going back to sharing my article on Facebook:
To start, you can see why it's so important to have a featured image for each post. In the before picture, I've removed my featured image. See how Facebook grabs any image it can find (my Author Website Buyer's Guide cover). One that isn't even related to my article.
Optimising images
The ideal dimensions of a image varies from network to network. Here's an image size cheat sheet for a full breakdown.
I primarily share on Twitter and Facebook and make my images 1024 pixels wide by 512 pixels high. I use a single image for my website, and both social networks.
Using Open Graph
The Open Graph protocol is another set of invisible Meta tags, but this time used for social media sites like Facebook and Twitter.
Open Graph adds a few extra tags to enhance the appearance of your posts.
Optimising Open Graph for sharing on Facebook
These are my Open Graph optimisations:
Author: Jin Wang
Site name: Jin & Co.
Image: (the URL of my featured image)
Type: Article
As well as the Title Tag and Description I optimised for Google
Now for the last of the big three, Twitter.
Optimising Open Graph for sharing on Twitter
Without optimisation, here's how a regular Tweet looks:

Back in 2012, Twitter introduced Twitter Cards and expanded previews.
Twitter Cards allow you to attach photos, videos, and other media to Tweets. Cards preview the content for the reader, create better engagement, and drive click-throughs.
You can optimise your web pages for Twitter in a number of card types.
These are my Twitter tag optimisations:
Card type: Summary Card with Large images
Site: @JinAndCo (my Twitter username)
Where and how to add these Meta tags to optimise your posts?
If you're using WordPress, install this WordPress SEO plugin by Yoast.
How to customise your social media preview cards with the WordPress Yoast SEO plugin
You can edit Facebook and Twitter card previews with the following steps:
WP Admin > Pages > Home — Front Page (or the page/URL you want to customise)
Find the Yoast SEO panel
Choose the Social tab
Remove/Replace the Image, edit Title and Description for Facebook and Twitter
Choose Update to save the changes
Here are some additional tips on SEO title and description
You can also test how Twitter cards will appear using Twitter's card validator and Facebook Debugging tool (you need to be logged in for both).
Wrapping up
I'm surprised by how few authors optimise their pages with Meta tags. It's not hard to see why. It's complicated.
But because authors aren't doing it, there's low competition, and big opportunities. You need only set it up once.
Here are 5 more, quick SEO tips for authors.
If you feel the world of author websites and online marketing is beyond your technical capabilities (and time), help isn't far away. Maybe it's time to get a professional in your corner?
Need me to elaborate on something covered here? Ask away in the comments below.