Blogging 101 for authors: a beginner's guide to starting your blog and what to write
Last updated 13 June 2023
Written by Jin Wang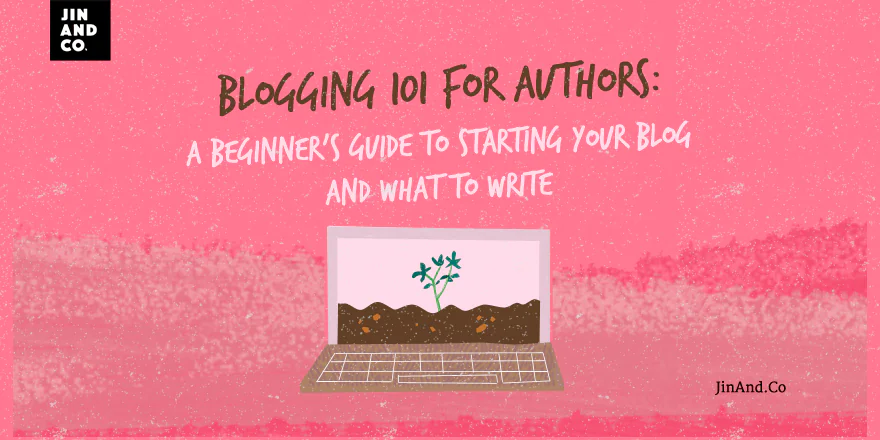 If I was to give three tips to a writer thinking of starting a blog, it would be:
Start with a niche of one
Define the journey for your readers
Be willing to promote your blog
Oh, and start yesterday.
Benefits of blogging
If you're a published author, the obvious benefit of a blog is the ability to share your latest news and events with your fans.
But below the surface – from an internet marketing perspective – a blog allows you to add new, fresh, and valuable content. There's only so much you can ad to your about or contact page. This content will bring traffic and exposure. Which leads to brand building and an asset you own.
A good blog is one of the best investments you can make for your promotion as an author.
I'm going to presume you already understand the benefits of blogging. You just need a little nudge to get started.
But here's a quick 10 benefits to blogging as a reminder:
Establish and promote your name as a brand
Promote your books
Become a thought leader in your niche
Build community through targeted content
Develop content to fuel social media sharing
Get feedback and encouragement directly from readers
Build a database of contacts through an email list
Develop freelance writing opportunities
Connect with readers and bloggers
Get booked for guest posts and speaking events
Wondering how publishers like to market a new book? The answer is blogs.
If you want to know how that works, read award-winning YA author Rachael Craw's guest post: How To Use A Blog Tour, Social Media, And An Email Newsletter To Launch A YA Novel
Want my 20-Point checklist for publishing and promoting your first blog post?
Types of blogs
A blog can take many forms. Here are a few common types, in order of marketing value.
Book reviews make good posts because you do a lot of reading. Why not share a unique view on the blog?
News type blog post are often summaries of recent events. A recent school or media appearance, literary award nominations, or running competitions and giveaways.
One topic that I don't think enough authors write about though, is their next title.
Fans are wanting hints and updates on the author's work in progress. Claire Zorn does a great job of this on the Inside a Dog blog. Claire establishes the premise of her next book. Provides insight into background themes. Even shares her inspiration writing soundtrack in the form of a Spotify playlist.
The next few blog types are more evergreen, so the content stays relevant for longer, unlike news posts.
Journal blogs are more personal and reflective. Here you would ponder personal observations, challenges or delightful moments in life. Meg McKinlay's contemplative blog is a personal favourite of the category.
Articles that address the problems or interests of your target audience will get the most engagement. Once you've determined your audience, it will be a easier to work out their problems, and therefore what they want to read about.
What do you want to be known for?
Author of the children's book series, The Mapmaker Chronicals, Allison Tait has established herself as a trusted expert. As well as writing fiction for children, Allison has her blog's audience clearly defined. Allison has built her platform around providing helpful articles on the business of writing. Allison has her own top tips for new bloggers.
If you write for children, it's difficult to reach them directly. You need to go through the gatekeepers: parents and teachers, by providing solutions for problems they face, such as inspiring kids to read.
Writing for a niche of one
So who is your website for exactly? A big mistake many authors make is assuming their website is for everyone. When authors try to appeal to all, they end up engaging none.
With limited time and money, I recommend starting with a singular audience focus, but expand over time to multiple audiences.
When it comes to defining a niche, the smaller the better. How small? You can't get smaller than a niche of one.
Not only will writing for a single person help you focus your blog post planning and writing, it will also make promotion a lot easier.
You'll know where your readers will be 'hanging out' online so you can comment.
You'll know the influential players in your niche you'll want sharing your posts.
You'll know the influential players to share their posts.
Then when it's time, you'll also know which niche is the next logical step.
A simple way to get hundreds of blog post ideas
New bloggers often have two major problems when getting started. Firstly, not forming a purpose or direction for the blog, which leads to not knowing what to write about.
Here's one exercise from Darren Rowse at Problogger, that really helped me. It will give you clarity about your blog's purpose, and will help create ideas for posts.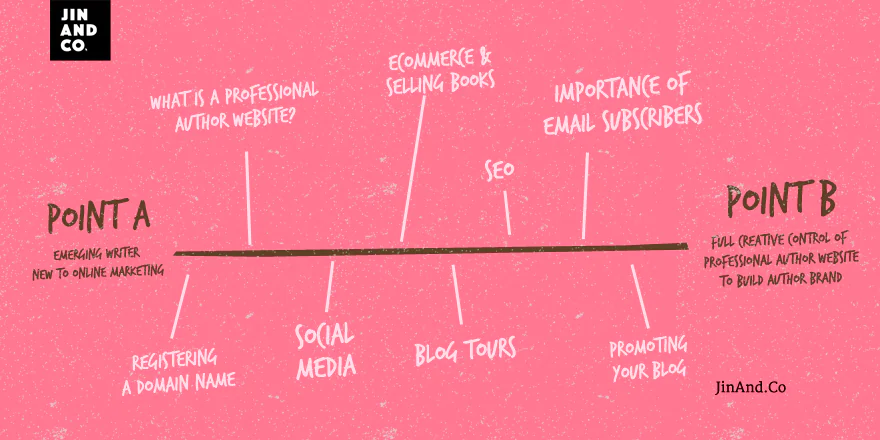 Darren's exercise it to take a blank sheet of paper and draw a 'Point A' on the left, and a 'Point B' on the right.
Under Point A: describe who your readers is when they arrive at your blog for the first time.
Under Point B: describe what you want your reader to become after reading your blog after a period of time, say 1 year.
Then between A and B: list the lessons or chapters your reader needs to go through.
For me, Point A is an emerging writer that is new to online marketing. My Point B is an established author, that has full creative control over their professional author website, to build their author brand online.
So for my blog, I write articles that discuss basic topics for authors without a website, or for those that have one, but aren't taking advantage it:
To more advanced articles for those wanting to use their website to market themselves:
Think of each step your reader must take to get from A to B. You're looking for the change your reader will experience. It's not to different from plotting the narrative of a novel.
Your 3-step blog marketing strategy
Continually add fresh, interesting, and valuable blog posts.
Promote your blog by reaching out to other influential creators, and sharing on social media.
When the visitor sees the value in what you have to say, you convert them into subscribers to your email list.
Repeat.
As I said in my opening 3 steps, you won't get anywhere without promoting your posts. But it's too big and important to cram into a small section here. So let's focus on getting started. Further down the track, nag me for an article on blog promotion 🙂
How about the technical?
Your blog should have the following features:
A way for readers to comment to build community
Automated spam protection. Trust me you'll need it!
SEO optimised URLs, or pretty permalinks to help get more visits from Google search
Allow you to add images and video to posts to make your website content engaging
It MUST be mobile friendly
Want my 20-Point checklist for publishing and promoting your first blog post?
Running a blog separate to your main website?
Already have a blog, but it's not connected to your main website. I recommend you merge the two under your main domain. It's better from a branding perspective. It creates a more seamless experience for your website visitors. For SEO, you're building up that single domain – Google search visibility, people linking to your blog.
Some writers also publish their posts to social networks, such as LinkedIn Pulse or Facebook Notes. These networks are great for driving traffic, but remember, social media is the vehicle, not the destination. Build your blog as an asset you own.
Start yesterday
In the beginning, no one will be reading your blog anyway.
So get some posts published.
Make those inevitable mistakes early on.
Establish a blogging process.
Learn the basics of blog promotion.
Then when your blog gathers momentum and you've got a few readers two things will happen:
in your eyes, you'll be more confident.
in reader's eyes, you'll be more worthy of sharing.
Ready to get started?
Use these 4 questions to define your blog's audience and purpose.
Who are you writing for? What can you be a thought leader on?
Why are you writing the blog? What indicators will you use to mark your efforts as successful?
What's in it for the reader? What is your audience getting out of your blog? Define your blog's 'Point A' and 'Point B' – where the reader starts; where they end; and a list of chapters that will get them there
Want to start out with a free blog to test the waters? I recommend using WordPress. Just make sure you buy a personalised domain name.
Need a bit more help getting started? Get in touch, leave a comment below, or subscribe to my email articles for more tips.
Want my 20-Point checklist for publishing and promoting your first blog post?