7 Unique business card design ideas for authors (plus 3 free downloadable designs)
Last updated 01 June 2023
Written by Jin Wang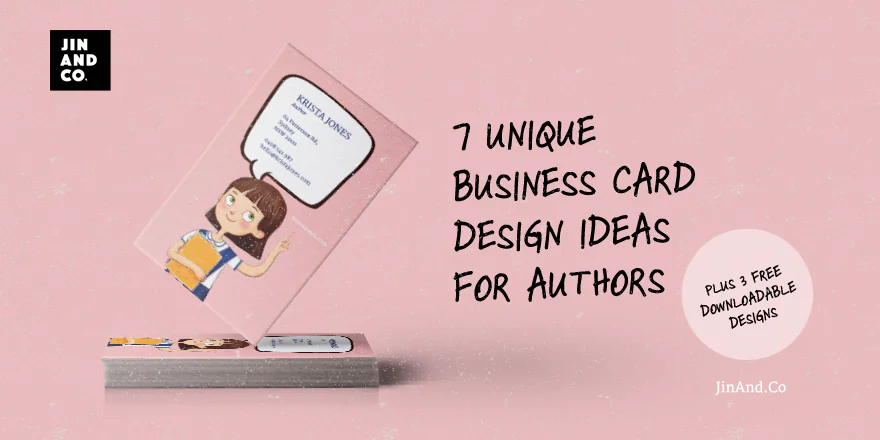 Nowadays, business cards may seem like a thing of the past. But in reality, they're still one of the most simple and effective marketing tools available.
Authors are not only creatives but entrepreneurs. You'll attend networking events with peers, publishers, agents, and readers. Having a business card gives you more time to pitch ideas and chat, rather than exchange information.
But having 'just another business card' may not be enough. Your creative side can't be ignored.
Your card should be unique in more ways than just name and number
Your creative sensibility also needs to be communicated through the card's design
And just like a book cover, a business card needs to make a good (professional) first impression
If you're having a hard time thinking of a design for your card, here are some suggestions.
Want my 3 Free printable business card designs?
Use your book cover
One of the easiest ways to design your business card is to use your book's front (and possibly back) cover.
Since the design is already in place, all you have to do is duplicate it, just to a much smaller scale. This card design allows you to pass on information and promote your book at the same time (two birds, one stone). It also ensures your business card is unique to something you own and are proud of, unlike a standard business card format. Just make sure to get permission first.
Make story cards
This idea is from our good friend GJ Stroud. Here, the card can be opened up to a lined page owners can write on.
It was specifically designed for literary speed dating, so naturally, this design is great for all types of events, where ideas will be flowing, and people will be looking for something to write on.
As recipients reflect on their notes, they'll always have your details close by in case they need to get in touch about their thoughts. To make it even more unique, combine it with the 'Book Cover' idea mentioned above. Together, they make a wonderful way for readers and influencers to engage with you and your work.
Personalise it with a custom stamp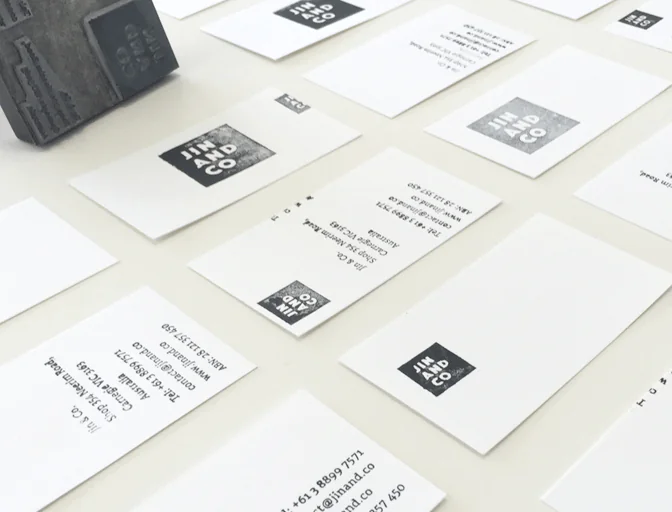 This is how we create our business cards. To do this, get yourself a batch of blank business cards. Then, have some personalised stamps made.
We went for one stamp, but you could go for a different stamp for each piece of information that you want on the card. For example, your logo may be on one stamp, your name and phone number on another, and your website URL on a third. Once they're ready, stamp away!
A lot of benefits here. For one, it gives your card an organic feel as it's handmade. You also have options for customisation. Each card is unique because you can stamp separate pieces of information in different places. Plus, this method is far cheaper than hiring a graphic designer and having the business cards printed.
Let your character speak: book character speech bubble
Take a character from your book, and have them announce your details in a speech bubble. This can be very effective for books that are character-driven, or a children's book series. It's a great call-back to your work, making your card easily recognisable and memorable. It also engages readers' imaginations, enriching the story world in their minds.
Get a second version without your personal details and it's great for kids to collect.
Of books and library cards
What better way to remind people of what you do than with a library card? — well, how borrowing books used to look. Simply take a template of a library card and place your name and details at the top. Then in the 'Borrowed Items' section, list your work and pub date.
A library card creates nostalgia. Your 'card' will not only remind them of their love of reading books, but it may also remind them of their love of reading your books. Besides, we love the idea because it transforms an ordinary, often ignored/forgotten aspect of reading into something extraordinary and memorable.
Bookmarks (need I say more?)
A bookmark business card is another great concept. You're giving your people a practical gift, they'll use while reading your work. Your information will always be close by, living with your book, and less likely to get lost (or binned :O ).
It's also not common to see a long business card. This gives you a unique design edge. Don't forget to put a tab that opens so they can clip the business card/bookmark onto the pages.
DIY idea: Bright edge effect
Here's an idea for the crafty readers out there.
Grab a bunch of your cards, and make sure they're all aligned and held tight. Get the ink flowing on a scrap piece of paper first and colour the edges.
Go with the grain of the cards (longways) and use slow even strokes. You could also go with one colour on the short sides and another on the long sides.
The options are endless. Go bright with a highlighter, metallic with a gold or silver pen, or even use spray paint and do the lot in one go!
Download my 3 free printable PDF business card templates
The designs in this roundup are quite adventurous, so if you're after something simple to cover you at your next writer's festival, here's something I prepared earlier.
Download my business card designs. They're free to customise and print and come in 3 colours.
Want my 3 Free printable business card designs?