3 Simple steps to setting up your email list to build your audience
Last updated 03 April 2023
Written by Jin Wang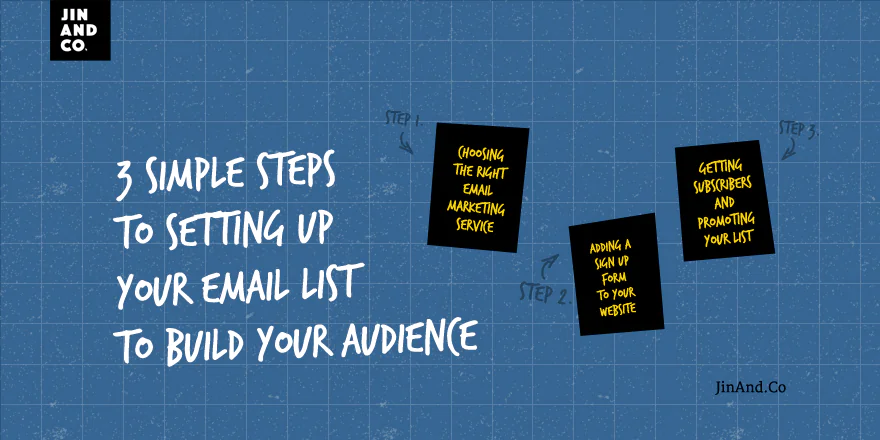 Last time, I wrote about why an email list is so important for authors – or any business for that matter.
By slowly and steadily staying in touch with your audience via their inbox, you're growing a fan base you own. Not one that Facebook or Twitter does.
We reviewed the PROs and CONs of the two most common types of emails: newsletters and notifications.
But there are so many email marketing options out there – which to choose? Where do you start?
Today, I'm going to simplify all of that. We'll look at:
Choosing a free email service: Mailpoet or Mailchimp
Adding a sign up form to your site
Getting subscribers and promoting your list
Let's jump right in.
Step 1. Choosing the right email marketing service
Option 1: MailPoet Newsletters WordPress plugin – for beginners
Whether you've got a hosted blog, or your own self-hosted author website, chances are it's built using WordPress.
The plugin I recommend MailPoet Newsletters (WordPress plugin).
This is a quick, simple, and cheap option. It will allow people to subscribe to your email list, and they'll be emailed when you publish a new post. The drawback to this method is that it sends email from your website's (shared) hosting server, which might not always pass your subscriber's email spam filters. Imagine if you lived in an apartment and your neighbour sent out a lot of spam. Your whole block would get a bad name.
Here's a shortlist of MailPoet's features:
Drag & drop newsletter editor (build your own design)
Send your latest posts automatically
Get stats for your newsletter: opens, clicks, unsubscribes
Segment your lists based on unopened, opened and clicked
Selection of over 70 themes
Sending newsletters in the free version is limited to 2000 subscribers
Here's MailPoet's 2-minute setup video
Option 2: MailChimp – for Intermediate and advanced
If you're looking to take your email campaigns to a more professional level, then go for Mailchimp.
I recommend MailChimp because it's the only professional grade email service that has a free plan. MailChimp is basically free for up to 2,000 subscribers. This option does everything that MailPoet does, but it sends the emails from MailChimp's servers, which won't be caught by spam filters.
As it's a full email marketing service, you get a lot more. Professional email templates, powerful automation features, and integration with other platforms. For example the ability to embed a signup form on your Facebook page.
If you're going to MailChimp, the first thing to do is sign up for a free account.
Here's a Mailchimp video showing you how to design an email
Still unsure?
If you're still unsure about the MailPoet and Mailchimp, go for the better long-term option, Mailchimp.
Step 2. Adding a sign up form to your website.
After you've signed up for an account and have created a list, the next thing to do is to add a subscribe form to your website.
If you're got a hosted WordPress.com site
WordPress.com controls all of the technical stuff for you, so you don't get access to edit code. This means you'll use MailChimp's signup link.
Link to your signup form
copy your signup form's URL from MailChimp's Form Builder, and
insert it as a link in your WordPress site's main navigation, sidebar, or footer.
Visitors will click the link to go to the form and then return to your site when they've completed signup.
If you've got a hosted WordPress.org site
When you've got a self-hosted WordPress site, you or your web designer has full access to editing code and customise any aspect of the experience.
To integrate MailChimp with WordPress, I recommend Easy Forms for MailChimp.
Here's their 90-second video that covers installing the plugin, all the way to seeing the subscription form on your home page.
s a hosted WordPress site owner, you'l have access to many more advanced integrations.
Here's a full list of MailChimp plugins for WordPress
https://blog.mailchimp.com/wordpress-plugins-for-mailchimp/
Step 3. Getting subscribers and promoting your list
Getting subscribers to your list obviously starts with producing something readers will find valuable or interesting, and want to continue receiving it on a regular basis.
Spell out the benefits
On your email list subscribe landing page, clearly describe the benefits of receiving your email. Also indicate the frequency of emails – weekly posts, monthly newsletters, monthly post roundups.
On your site: your blog's call to action
Many people that visit your website will never return. To capture this traffic, one goal of your blog post could be to get the reader to subscribe. Place the 'call to action' prominently at the end of your post.
Whenever you get the chance to write a guest post on another blog, be sure to include a link to your email opt-in form.
Off-site: Promote on social media
If you've already got a good following on a social media platform such as Facebook or Twitter, promote your email list there. This offers your followers a way to connect with you for exclusive and longer form posts.
You can also use social media to collect emails for your email list. For example, when you publish to your blog, post it on your Facebook page, or share to Twitter. Drive the traffic back to your site for the full content, and encourage people to sign up to your email list in order to receive more posts like it.
Offline: speaking events
There are many opportunities to promote your email list and encourage people to opt-in. When you're presenting at a school visit for example. Be sure to add an invite in one of your presentation slides.
After each speaking event, hand out a simple sheet of paper for people to add their details. Don't rely on them proactively going to your website at a later date to sign up.
Free Gift
To get the visitor to actually fill out your signup form, consider offering a free gift.
Here's a list of opt-in offer ideas to get you started:
'Thanks for being a fan' video
A special 'behind the scenes' look
An exclusive short story, or piece of writing
A piece of visual art
Giveaways and prizes
Look how Tristan Bancks is promoting his email list. John Boyne (The Boy In The Striped Pyjamas) retweeted it to his 99.5K Twitter followers. That's a lot of eyeballs that may be interested in Tristan's news.
Want my 12 email list ideas that turn fans into loyal true fans?
Remember, your writer's website is the hub of your marketing efforts.
Whether it's posting to your own website, getting exposure on other influential blogs by guest posting, or offline at press interviews or speaking events, get people to get to your website. Once there, a primary goal is a subscription to your email list.
Here's what's coming up next week, in the last of this 3-part series.
We look at how to send emails with Mailpoet and Mailchimp (automated or manual)
12 ideas for what to write in your newsletter
Making sure your subscribers are actually reading your emails
Subscribe to my email list below to have my next post delivered straight to your inbox
Need help with anything covered above? I'd be happy to help. Email me (Jin) or leave a comment below.